After its announcement earlier this year, the Twitch game store is now officially open for business. Going forward, game publishers and developers will be able to team up with Twitch to have their games sold directly through the streaming site. Partnered streamers playing these games will have a purchase link displayed underneath their stream and will get a cut of the sale.
Over the next week or so, a mix of full games and in-game content will be put up for sale through Twitch, including games like Ghost Recon: Wildlands, For Honor, Firewatch and more. Free to play games like Warframe and Smite will be offering in-game content via the store. In an effort to encourage avid Twitch users to buy their games through Twitch directly, 'Twitch Crates' will be included with every purchase, which contain things like unique chat emotes, badges and 'bits'- Twitch's own currency often used to donate to streamers.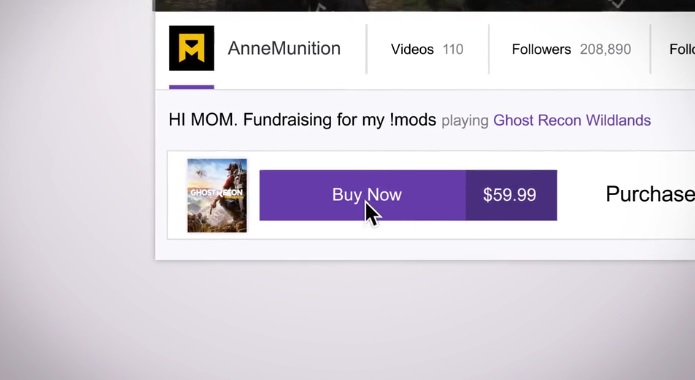 Right now, games on the Twitch store are only displayed in US dollars but localised pricing should come into place soon. As you might expect, purchases made through Twitch are fulfilled by Amazon, so having your Amazon and Twitch account connected is a must to get everything going smoothly. Aside from all of that, Twitch is also pitching this as another way for users to support streamers, so here is how the exact revenue cut breaks down:
When you are watching a streamer playing a supported game, the option to purchase that game will appear underneath the video itself. Hitting purchase while on a streamer's channel will direct 5 percent of the revenue to the streamer, meanwhile the developer gets 70% and Twitch gets the remaining 25%.
Games purchased through Twitch can be launched through the new Twitch app, which is a reworked version of the old Curse client. However, some games will require third-party launchers like UPlay, Origin or Steam.
KitGuru Says: Ever since being bought by Amazon, Twitch has wasted no time implementing new ways to monetise the platform. Twitch has its own currency, its own crate/cosmetics system and now Twitch will even sell you games directly. Do you guys ever use Twitch often? Would you consider buying a game through Twitch over another platform in the future?