Back in 2015, Valve teamed up with Bethesda to experiment with the idea of paid mods, giving modders a chance to make some cash for their work on games. However, the paid mods launch for Skyrim wasn't handled particularly well and it was quickly drowned in controversy, leading to paid mods being shut down. However, it looks like Valve hasn't lost faith in the idea, hinting that paid mods will eventually come back.
Valve recently held a three-hour press briefing at its headquarters, during which members of the press got to meet with developers for various projects alongside Gabe Newell himself. As PCGamer reports, during this briefing, the subject of paid mods was brought up, with Newell saying: "Modders create a lot of value, and we think that … absolutely they need to be compensated, they're creating value and the degree to which they're not being accurately compensated is a bug in the system, right?"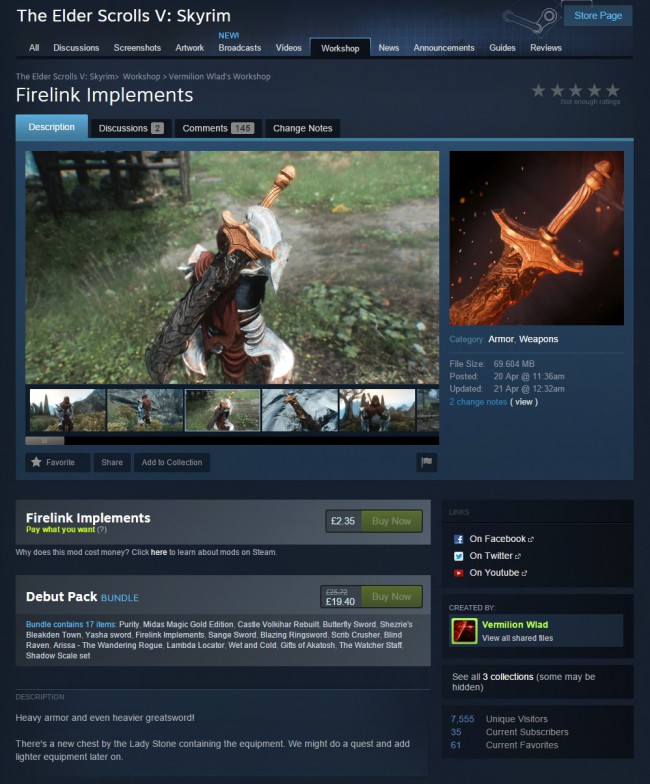 "You want to have efficient ways so that the people who are actually creating value are the people that money is flowing to", Newell then added that "the Skyrim situation was a mess", acknowledging that it wasn't the right game to launch paid mods with, especially with the way Valve chose to roll it out.
So it seems that Valve is still into the idea of paid mods but after the Skyrim situation, they are being very careful about their approach to round two.
KitGuru Says: Paid mods seems like a noble idea but its success will really depend on which game it launches with and the quality of the content on offer. Skyrim's paid mod launch contained plenty of over priced sword skins, which certainly weren't going to win anyone over. Next time around, things would need to be quite different.