ASUS deploys a better WD SN730 SSD on the Intel system. The AMD laptop's SK Hynix 1TB drive does, however, hit 3GBps writes. Thankfully, neither drive had cooling issues even with heavy sustained loads.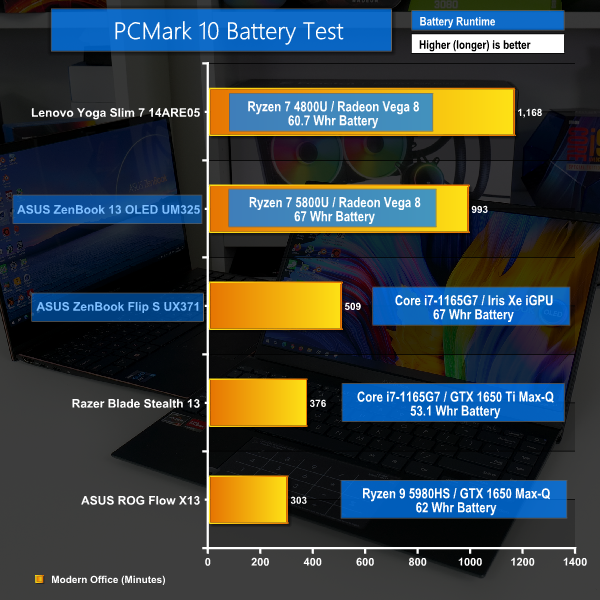 A battery life comparison is slightly unfair versus the 4K OLED touchscreen for the ZenBook Intel version. What we can say, though, is that AMD's efforts with battery life on Ryzen 4000U and the new Ryzen 5000U have delivered some phenomenal results.
The Ryzen 7 5800U ZenBook 13 and its 1080P OLED display can do over 16 hours of usage in PCMark 10's testing, which will actually translate into a little more in the real world. That is very impressive indeed.
Temperature-wise, you shouldn't really have any major cooling concerns with the Ryzen 7 5800U. Unlike its Intel competitor, the AMD chip tends to stick below 80C in heavy sustained workloads, and it stabilised around low-to-mid 60s in our testing. The 1165G7 in the ZenBook Flip S stabilised around 70C after initially hitting 90C under its Turbo Boost mode.
For a comparison in noise output, check out our video review.