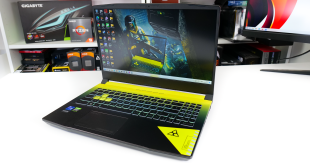 In this review, we are examining the MSI Crosshair 15 R6E Rainbow Six Extraction edition. Hardware comes in the form of an Intel Core i7-12700H processor, an RTX 3070 Laptop GPU, 32GB of DDR4 memory, a 1TB SSD, and – arguably the star of the show – a 15.6" 2560×1440 165Hz IPS-level display. With a pretty hefty price tag of £2000 currently, but £2199 MSRP, let's take a closer look at what MSI offers for that money.
Timestamps
00:00 Start
01:05 Intro and Specs / Inside / Slots
03:09 The Screen
03:56 Connectivity and concerns
05:24 Camera/Speakers/Trackpad/Keyboard
07:00 Battery
07:12 Pricing mess
08:07 Testing states / software
09:02 Comparison data
09:23 Noise / Power / Temps / Freq
12:37 SSD performance
12:54 Battery life
13:20 Test Results
15:13 1080p Gaming Performance
16:25 1440p Gaming Performance
17:46 Luke's Closing Thoughts
In terms of design, the Crosshair 15 R6E is very similar to the Katana GF66 that we reviewed recently – aside from the Rainbow Six Extraction-inspired black and yellow colour scheme, of course. I'm not going to pass comment on my preference (or lack thereof) for the colour scheme as this is an undeniably personal choice.
This is pretty much a generic 15.6" chassis and it certainly is not designed to be sleek and portable. At well over 30mm-thick in some areas with the lid closed, and still 26.9mm even with the lid open, this is very much a park-it-on-the-table gaming laptop. The 2.47kg weight and chunky 240W power brick backup that point.
Importantly, though, to many gamers is the strong allocation of ventilation gaps for adequate cooling. Plus, the thickness means that a solid chunk of heatsink can be squeezed inside MSI's unit.
Under-the-hood hardware starts with the Intel Core i7-12700H processor. This features 6 Performance cores and 8 efficient cores. The maximum rated Turbo speed is 4.7GHz for the 35-115W allowable TDP range, but we will see what MSI allows this laptop to actually run at later in the review.
Graphics comes in the form of an Nvidia RTX 3070 8GB Laptop GPU. This is rated at 140W maximum power in MSI's deployment, according to the spec sheet. 140W of RTX 3070 goodness should be pretty zippy, even at this price point where a 3080 is perhaps a wallet stretch.
Important to note, though, is that the Intel Iris Xe integrated GPU is connected to the display, as standard.
Memory is 2x16GB of DDR4 3200MHz in SODIMM form, so there is upgradability if you whip out the current modules. Opting for cheaper DDR4 versus DDR5 is fine in my opinion. MSI equips dual M.2 SSD slots, one of which is filled with a 1TB PCIe Gen 4 model.
Focusing on the screen, we are treated to a 15.6" 2560×1440 IPS-level display. We feel that the combination of size and resolution is perfect for a laptop at this price point and that's particularly true when the impressive 165Hz refresh rate is factored in.
The screen quality is actually good, too. It is rated for 100% DCI-P3 typical which means that colour accuracy is a strength and the contrast was good to my eyes. Peak brightness was definitely lacking, so anybody wanting to do gaming outside on a bright day may struggle.
But the image quality, pixel density of the resolution, and fluid motion from the 165Hz refresh rate make for an appealing combination.
Physical connectivity for MSI's now roughly £2000-2200 Crosshair 15 R6E is the same as for the often £900 cheaper Katana GF66. I regarded that laptop as having poor connectivity, even for its affordable £1099 price tag.
Let's be perfectly honest; the deployment of ports for this two-grand Crosshair 15 R6E is nothing short of a joke!
You get three 5Gbps USB ports – one of which is Type-C – and with a USB 2.0 Type-A to round out the bundle. That's right – there's no 10Gbps or 20Gbps connectivity – never mind Thunderbolt 4 – on a laptop of this price.
The only video output is 4K60 HDMI as the Type-C does not support video or power. Gigabyte Ethernet and a combo audio jack are fine. And then there's the barrel-style power connector.
Single video output, 5Gbps peak transfer rates, no Type-C charging – MSI's port selection is outrageously bad! If we look at the ASUS TUF Gaming F15 competitor laptop just as an example, you get Thunderbolt 4, 10Gbps USB-C with DisplayPort and G-Sync capability, and no silly USB 2.0 port. And that laptop is cheaper than MSI's.
Yes, Intel 802.11ax WiFi 6 and Bluetooth 5.2 are deployed, but they don't detract from the fact that MSI's port offering is terrible.
In terms of peripherals, it's once again very similar to the cheaper MSI Katana GF66. So, my feedback will be the same.
There's a 720p30 webcam, but it doesn't support Windows Hello and there is no fingerprint scanner. So advanced sign-in options are limited. The speakers are a pair of 2W units which genuinely surprised me for decent punch to the bass, good maximum loudness, and solid ability to maintain decent quality at high volume outputs.
Trackpad sizing is modest for my giant hands, but the responsiveness and flow of the implementation and the solid clicky buttons were good.
The keyboard is good for my personal preference and large hands. I had very few accidental key strikes because of the sensible key pitch segregating neighbours. I also felt that the actuation point of the 1.7mm-high keys was clear and firm, which enhanced comfort. MSI includes a number pad, which I personally find pointless, but it is there.
The keyboard backlighting is inspired by Rainbow Six Extraction game colours, with three step of brightness and a completely off option. MSI uses green for the lower third, blue for the middle third, and yellow for the upper third. The WASD keys are presented in a different style though.
I really don't have any complaints with the keyboard. Its styling is unique, but the quality is good, in my opinion.
For the battery, a 90Whr, 4-cell unit is deployed and used in combination with the sizable 240W power brick. There is no USB-C charging even for trickle top-ups, which is disappointing.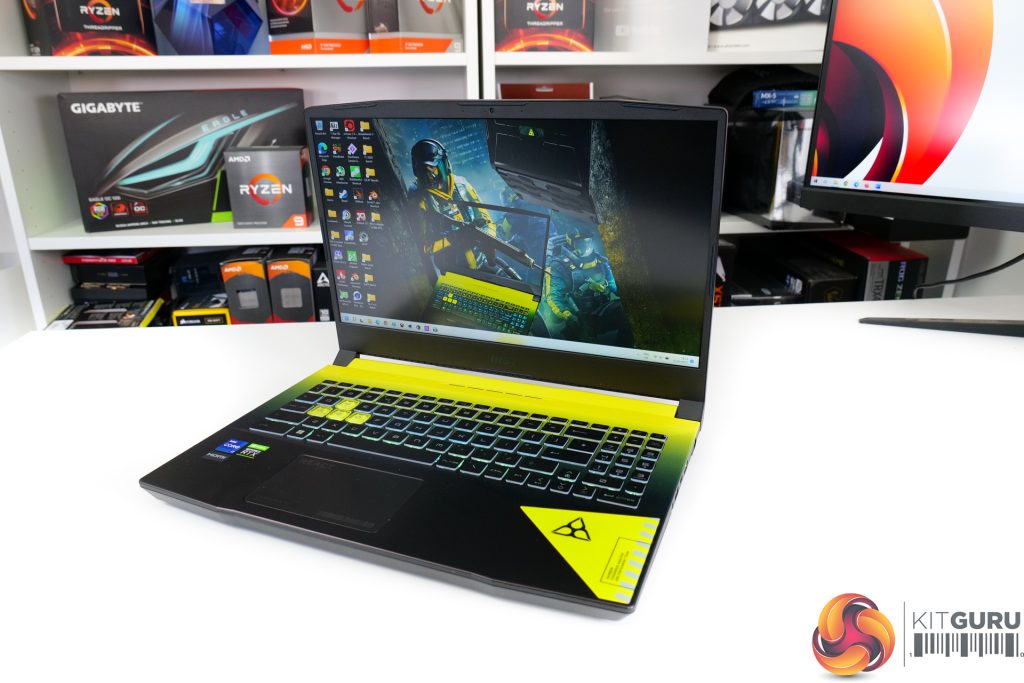 UK pricing for the MSI Crosshair 15 R6E B12UGZ-299UK model that we tested looked to be around £2200, but this dropped down to a more sensible £1739-1799 at the likes of CCL and Laptop Outlet in May. However, as of early June, actual availability pricing looks to be around £2000 in the UK, and the MSRP is £2199.
This makes ASUS' RTX 3070-equipped, 16GB DDR5 TUF Gaming F15 a direct competitor at around £1700. Or the AMD Ryzen 7 6800H alternative TUF Gaming A15 also at around £1700. Both of those are £500(!) cheaper than MSI's MSRP.
There is actually a basically identical Crosshair 15 R6E model that is downgraded to 16GB of RAM available for £1500 at Currys (albeit at £1699 MSRP). Given that a 32GB set of DDR4 SODIMM can be had for £130, that makes the current pricing on Currys a good deal, and MSI's 32GB-RAM-tax a complete and utter – disgraceful – rip-off!
So, consider this Core i7-12700H, RTX 3070, 1440p 165Hz laptop to be around £1500-1700 in its 16GB form, or vastly more expensive in the 32GB form that we have on review.
Let's get into testing.
Be sure to check out our sponsors store EKWB here