It looks like Samsung and LG aren't the only ones working on flexible display technology as it appears that Microsoft has also been experimenting with new designs. This week, a new patent from Microsoft was discovered, detailing what appears to be a Surface device with a foldable display, allowing you to extend your smartphone into a tablet.
The patent filings were made as far back as 2014 and detail a new concept mobile device. From the looks of it, there are three modes, smartphone mode, tablet mode and then what looks like a kickstand mode, with the tablet propped up.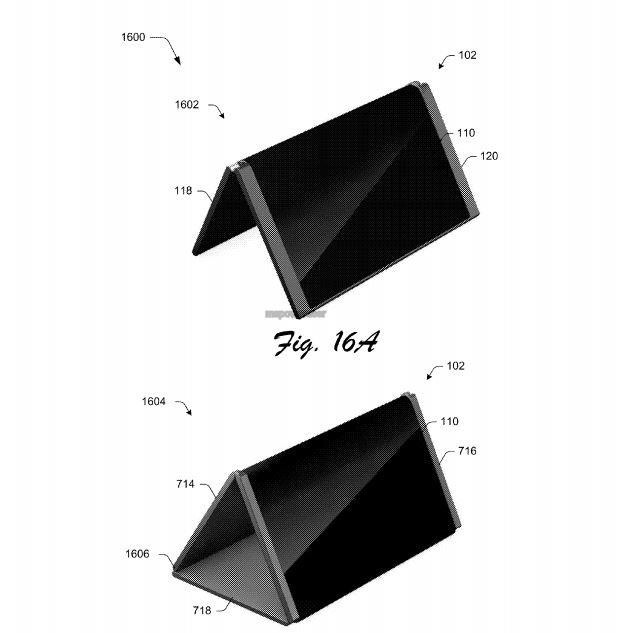 This particular patent was filed by Kabir Siddiqui at Microsoft, who has previously filed patents for the Surface kickstand and Surface camera for Microsoft. This patent could potentially be showing us what Microsoft wants the future Surface Phone to be, which has been rumoured for quite some time.
As The Verge points out, Microsoft has a history of avoiding traditional form factors with all things Surface-related, whether it be the aspect ratio of the Surface Studio display or the kickstand on the Surface tablet. Microsoft's place in the smartphone market hasn't been great for a number of years, so a never before seen device like this could be just what the company needs to stir up interest.
All of that said, this is still just a patent filing, which means there is no guarantee that we will ever see a finished product come out of this. That said, the foldable smartphone concept is pretty far along at this point, with LG ready to mass produce flexible displays and Samsung reportedly launching the Galaxy X later this year, there is a chance that Microsoft could also have a smartphone like this ready for release later this year.
KitGuru Says: Flexible and foldable screens are going to pave the way for some really interesting and new designs, which is just what the smartphone market needs at this point. After all, flagship releases have become quite predictable over the last few years. What do you guys think of Microsoft's Surface phone/tablet concept?