Way back in 2014, the Raspberry Pi Foundation launched its first Compute Module, based on the original Raspberry Pi hardware but combining it with a SODIMM module. However, since then we have had two more generations of Raspberry Pi hardware, so it was time for the module to get an update of its own. Today, the foundation launched the Compute Module 3 (CM3), bringing in huge updates, like 64-bit and multi-core support.
The Compute Module 3 is based around the  the same hardware as the Raspberry Pi 3, meaning double the RAM and almost as much as ten times the CPU performance of the original module. There are two versions of the CM3 coming out, the standard version uses a BCM2837 processor at 1.2GHz with 1GB of RAM. The lite version uses the same base hardware but also includes an SD card interface, allowing a user to wire it up to an eMMC or SD card of their choosing.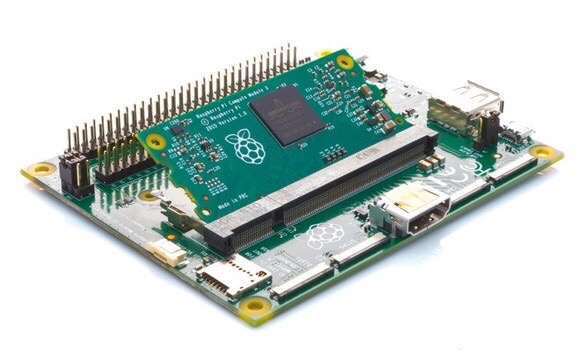 Alongside the Compute Module 3, the foundation is also releasing an updated version of the Compute Module IO Board, which will provide the necessary power to the module and give users the ability to program the Module's flash memory or use an SD card. You will also be able to access the processor interfaces and hook up a display via HDMI and use USB for additional connectors. With Microsoft now working on a new Arm version of Windows 10, this could also turn into a little Windows machine if Raspbian isn't quite to your liking.
The CM3 standard will coast $30 while the lite version sits at a slightly lower $25 price point. The original compute module will also remain on sale for $25.
KitGuru Says: I'm not much of a programmer myself but I know quite a few people who really like to experiment with the Raspberry Pi. Do any of you guys own a Pi or one of these Compute Modules? What do you think of the updated CM3?