T-Mobile has just revealed its new scheme to allow potential customers to check out its network. Starting from the 23rd of June, T-Mobile will give you an iPhone 5s for one week, which will let you see if the network's services and availability work for your needs.
The network reckons that one million people will use the test drive service within its first year. In the US, T-Mobile is still a pretty small network and doesn't have as much coverage as AT&T or Verizon, but this new scheme should help get some new customers on board.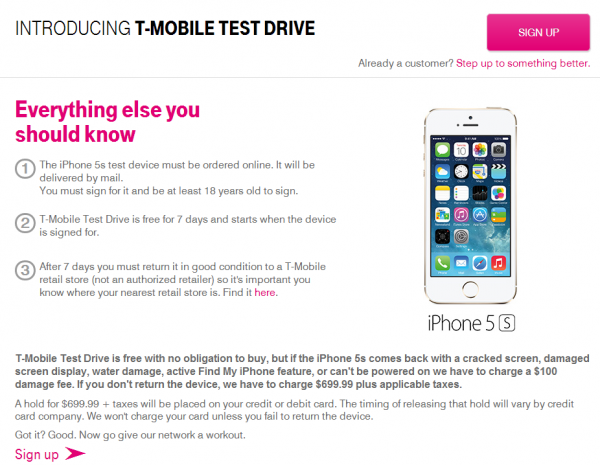 The feature will remain exclusive to the US, much like the network's new upgrade every year scheme. Apple are giving the test drive iPhone 5s handsets to T-Mobile for free. It's a win-win for the network and Apple as many still don't know that the carrier offers the device.
There are some caveats to the deal though, if the iPhone is returned with any damage or with the find my iPhone feature turned on, then T-Mobile will automatically charge you $100. If you keep the phone for longer than seven days, then you will be billed $699.99, which is the full, off contract price of the phone.
Discuss on our Facebook page, HERE.
KitGuru Says: This sounds like a good idea in principle. Some people switch to a new network only to realize that they get bad signal in their house so at least people can avoid that. However, it would be a shame to see the program exploited, I can imagine a few of those iPhones will go missing.