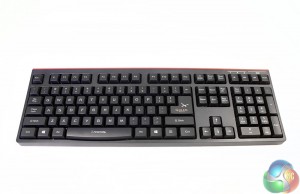 The keyboard itself is rather plain looking, with matt black paint and only a couple of logos and a red band across the top giving it any sort of styling. The overall construction is reasonably solid, though there is a little flex in the frame if twisted.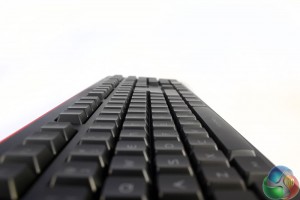 The keys have the usual concave dip for resting fingers on. Interestingly, when compared with other standard height keys, the ones on the K50E are actually slightly raised at the front, declining towards the back, whereas 'normal' keys are reversed.
They have a higher back, and an inclined front.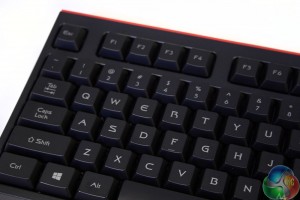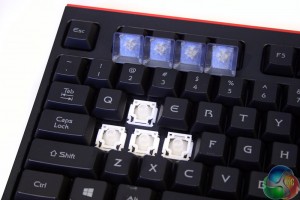 The keys also feature translucent lettering to allow for the orange backlighting to shine through. These are dual-scissor switches, at double the usual height. Under all of that plastic however is a standard membrane system. The keys are not separated out as we have seen on some boards, so this one is likely to be vulnerable to spill damage.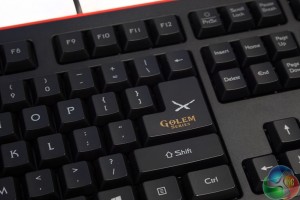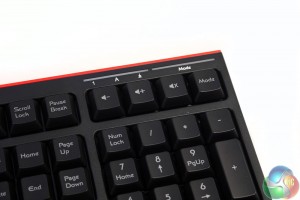 No media key double functions on the F keys, those are reserved for keys at the end. We find a volume up, down and mute button – no skip or play/pause keys. There is also a mode button, which is said to switch the board being able to register 13 keystrokes per second, up to 50. According to the manual, this is for gaming purposes, though theoretically it could also be useful for high speed typing.
The "Turbo" function that the mode switch engages, does also lock the Windows keys.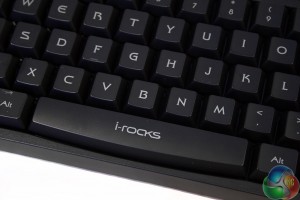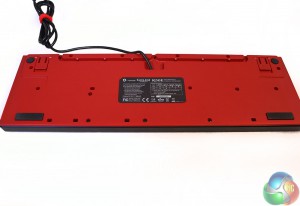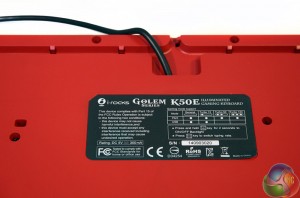 Flipping the board over, we can see that on the underside it is bright and cheery. Although a splash of colour is nice to see on the otherwise quite dull board, it seems a shame that is almost exclusively on the back. If there was ever a place to make dull, it is the underside! Unless i-rocks got a deal on red paint and decided to use it here, I do not understand painting it such an eye-catching colour.
Still, it does feature cable routing for those that prefer their cables to come out of the side, rather than the centre of their board.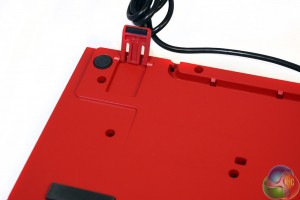 There are some extended feet if you want your K50E at a slight angle. Better yet, they have rubber feet of their own, so raising the board up should not affect grip.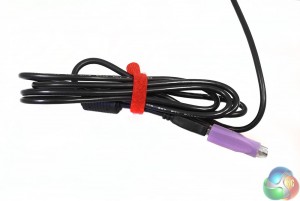 The cable for this keyboard comes with a pre-attached PS2 converter, though it can be removed if preferred. The cable is standard rubber with no braiding and the header is entirely nickel-plated.