To test a gaming peripheral, we use them as our main work and play tool for more than a week, running it through the gamut of games from various genres and tens of hours of typing out thousands upon thousands of words. All the while we evaluate them for gaming ability, comfort and ease of use and note down our thoughts. So that is exactly what we did with the i-rocks Golem K50E.
It was quite a change of pace to review a keyboard that does not come equipped with mechanical switches, most of which come from a single manufacturer. While I would not go so far as to say that this i-rocks board's membrane scissor switches are in any way better than mechanical ones, they do a pretty good job. Thanks to the double spring action they are responsive and quick and their increased height over the usual low profile laptop scissor keys was nice to see.
The only really noticeable difference mid-game is that the keys are not quite as responsive as you would get on a mechanical. They take a bit more force than your average red switch key to go down and they do not have a linear progression, gradually getting harder to press as they complete their transit. This does not make too much difference in games since you are pressing each key uniformly, relatively hard most of the time, but it will contribute to a slightly higher response time.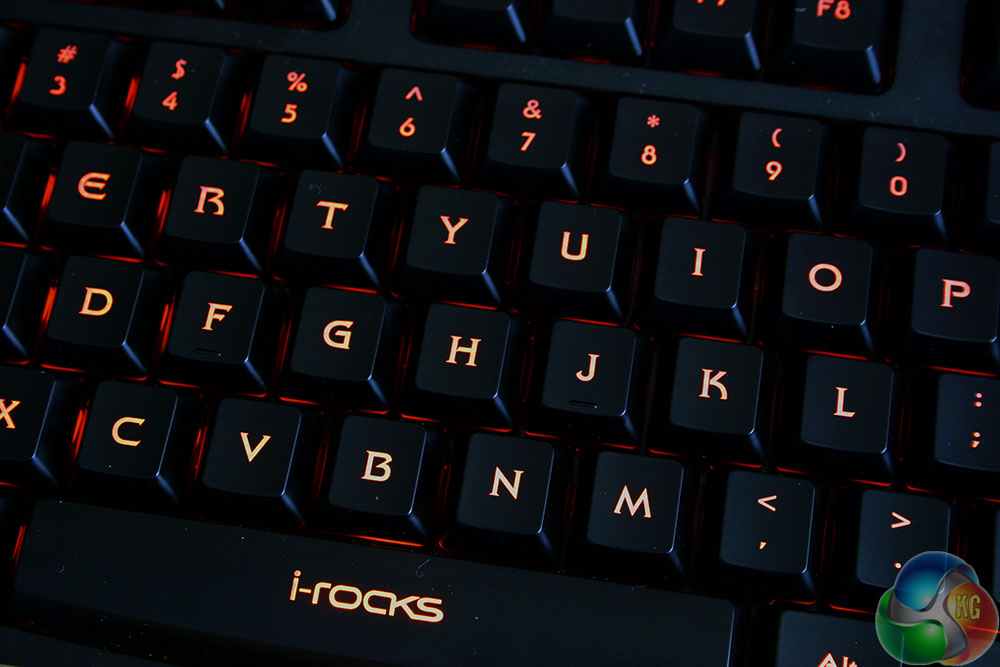 The backlighting is a dark red/orange in darkness but looks more yellowy with a light on
But of course if you can afford a mechanical board you are probably thinking of buying one and will be reading those sorts of reviews. What you want to know is whether as a cheaper (£38) keyboard, the i-rocks K50E can offer an alternative for gamers. It can indeed, and though I will likely continue to recommend a mechanical for serious gamers, those looking for a cheaper upgrade option from a stock board would certainly find an improvement in the K50E.
When it comes to typing, I was similarly impressed. Although again, I would prefer a mechanical board (with brown switches if given the choice), I really liked what i-rocks did to make this a more comfortable board to type on. The raised height keys and the double scissor arms are a big improvement over the comparatively wobbly and inaccurate stock membrane boards. It has a bit of a "mechanical feel," as the marketing material says, but they do not feature that linear transition of mechanical keys which does feel nicer.
However the i-rocks K50E is relatively quiet during usage too and comfortable to type on too. For those keeping track at home, my usual typing rate is around 115 words per minute and I averaged out at around 110 WPM with this keyboard, so it is not bad at all and really those results show that a membrane board does not have to be much slower than a mechanical if done right.
I did miss a wrist rest while using it, as in between long sentences it is nice to be able to rest your forearms for a second on something. However this board does at least have a uniform front edge so attaching a third-party rest should not be too difficult.
The media keys were well placed and could be operated with one hand meaning you can use them mid-game. However they do lack the usual skip and play/pause functions.
The Anti-ghosting features seem to work well enough, though they do not extend to all of the board's keys, which reduces their effectiveness.