For years now, the top gaming mice have all offered a 1,000Hz polling rate, with very few attempting to push things further. That changes this year with the Razer Viper 8KHz, featuring Razer's new HyperPolling technology, raising the polling rate to 8,000Hz.
Currently, most top gaming mice support polling rates of up to 1000Hz, but with faster PCs and higher refresh rate monitors, Razer claims higher polling rates can eliminate annoying micro-stutters, significantly improving gameplay performance when a fraction of a second can be the difference between winning or losing.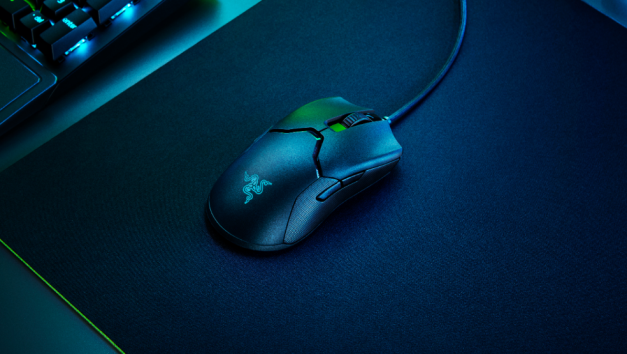 Polling rate is the frequency at which a device reports data to the PC, with an industry standard of up to 1000Hz (1000 times a second). Razer HyperPolling Technology utilizes a high-speed USB microcontroller to surpass this standard with a true polling rate of 8000Hz. This allows the Viper 8KHz to send up to eight times more data each second, effectively reducing input delay from 1ms to just 1/8th of a millisecond.
Here are the full specs for the Razer Viper 8KHz gaming mouse:
True 8000Hz (0.125ms) polling rate
True 20,000 DPI Focus+ optical sensor
Up to 650 inches per second (IPS) / 50 G acceleration / industry best 99.6% resolution accuracy
2nd-gen Razer Optical Mouse Switches rated for 70 million clicks
True ambidextrous design with ultra-durable integrated rubber side grips
100% PTFE mouse feet
Gaming-grade tactile scroll wheel
On-The-Fly Sensitivity Adjustment (Default stages: 400/800/1600/2400/3200)
Hybrid Cloud storage and on-board memory (4+1 profiles)
Razer Chroma™ RGB lighting with true 16.8 million customizable color options
7+1 programmable buttons
Advanced Lift-off/Landing distance customization
Razer Synapse 3 enabled
1.8 m / 6 ft Speedflex cable
126.73 mm / 4.99 in (Length) X 57.6 mm / 2.27 in (Width) X 37.81 mm / 1.49 in (Height)
Approximate weight: 71 g / 2.5 oz (Excluding cable)
The Razer Viper 8KHz also features Razer's 2nd Gen Optical Mouse Switches and the Razer Focus+ Optical Sensor, combining three technologies to create the most accurate and responsive mouse possible. The mouse is available starting today for £79.99.
KitGuru Says: This is going to be a very interesting mouse to look at for review. What do you all think of the Razer Viper 8KHz? Is this something you'd pick up for an upgrade?