This month, we teamed up with ARCTIC to give KitGuru readers the chance to win one of three prizes. We've got two fantastic monitor arms in addition to two Alpine Passive CPU coolers up for grabs. The competition has come to a close this week, so it is time to announce the winners!
ARCTIC is well known for its monitor arms. We have two up for grabs this month, the 'Z2-3D' and the 'Z1-3D'. The former is a dual-monitor mount that clamps to your desk, offering height, pivot and swivel adjustments whilst also giving you more desk space by removing the bulky stands monitors usually come equipped with. The Z1-3D offers all of the same benefits, but is designed for single-monitor setups instead.
Finally, we are also giving away an Alpine AM4 passive CPU cooler and an Alpine 12 passive CPU cooler. The Alpine AM4 is built for AMD processors, as the name suggests. Meanwhile, the Alpine 12 is built for Intel's 115X socket. You won't be cooling an 8700K on one of these, but it would be perfect for a low-power CPU, perhaps in a small living-room HTPC. The official word is that these coolers are optimal with CPUs up to 47-watts.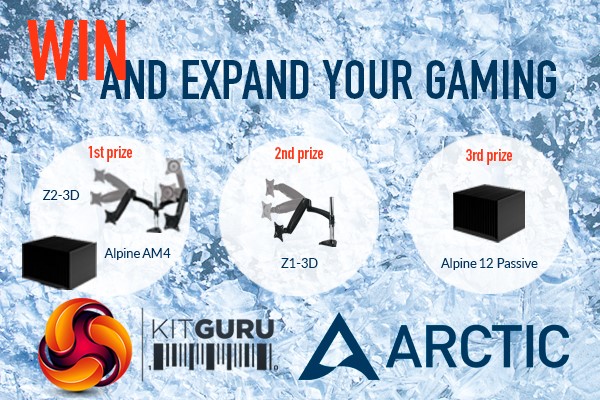 There are three prize placements, meaning three winners:
1st place: Z2-3D Monitor arm and Alpine AM4 CPU cooler.
2nd place: Z1-3D monitor arm.
3rd place: Alpine 12 Passive CPU cooler.
Now without further ado, our winners are:
1st place: Gerald Hefty.
2nd place: Steve Hamilton.
3rd place: James Ladbrook.
The three winners have been contacted and prize shipping is currently being arranged. Thanks to everyone who entered and stay tuned for more competitions in the future!
KitGuru Says: Thanks to all the readers who entered this one. We'll have more on the way soon so keep an eye out.