Each year, up to one million Brits hit up ski slopes across the world, armed with a camera to capture those memories. That's a lot of high altitude and low temperature shooting, so how can you be sure that the microSD card you choose will be up to the task? Kingston has been doing some extreme research, sending the Kingston I-Temp microSD card up Mount Everest, enduring temperatures as low as -60 degrees. It was the only card to survive the mountain without any errors. To celebrate this, we are giving THREE lucky winners the chance to win one! 
Crowned 'Adventurer of the year' in 2016, Robin Trygg became the youngest person in the world to climb up 8,848 metres to the summit of Everest in 2011. He has since scaled the world's tallest mountain from both the north and south sides – enduring temperatures down as low as -60 degrees. To ensure perfect image capture (with transfer speeds up to 90MB/sec), Robin's professional photography partner, Peter Svensson, has tested a number of camera/card combinations in extreme conditions, including the summit of Everest, and found only one product used was 'error free' in every environment. That product is the i-Temp microSD card from Kingston. The i-Temp part of the name, means 'Industrial temperature' – guaranteeing results in extreme conditions.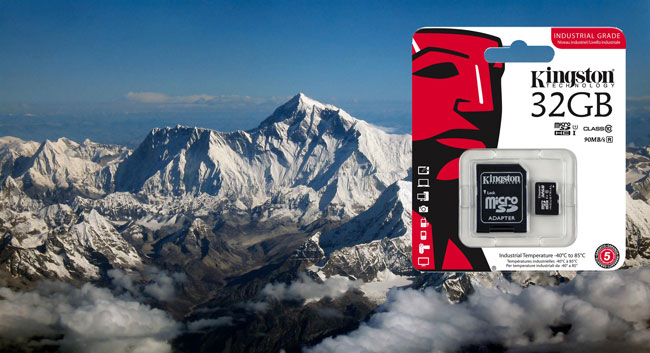 These heroic microSD cards are UHS-I U1, can hold up to 32GB of data each and retail for close to £60. KitGuru has teamed up with Kingston to offer THREE LUCKY WINNERS the chance to own one!  All you have to do is answer these 3 simple questions:-
How high did Robin Trygg climb up Everest?
8,848 metres
7,848 metres
6,848 metres
How cold did the Kingston i-Temp microSD cards get without a single failure?
Minus 40°C
Minus 50°C
Minus 60°C
How fast did the Kingston i-Temp microSD card transfer data on the summit of Everest?
50MB/sec
70MB/sec
90MB/sec
In order to enter, all you need to do is send an email over to '[email protected]', with the subject line 'I need Kingston i-Temp Extreme Performance!'. If you have an email client installed on your OS- click the following link for autofill Email KitGuru by clicking here. 
In your email, please include a contact number and link to your Facebook or Twitter page so we can verify you're a real person and not a 'competition bot'. Sorry to those readers without a Facebook account, but we try to reduce the amount of people abusing the system and sending entries from multiple email accounts. If you do not send a Facebook or Twitter link to a live account page, your entry will be ignored.
This competition is open globally, although if you are outside the European Union we are not responsible any for customs fees you may incur. Please check with your country officials to get details on possible tariffs if you are unsure. We clearly mark the package as 'competition prize'.
All entries must reach us by 11:59 PM (UK time) on the 12th of January 2018. Winners will be announced within 28 days of the closing date (although likely much sooner). All decisions made by KitGuru staff are final. There can only be one entry per reader.
KitGuru Says: Good luck!