Even the fastest internet connections can be crippled by a weak router or poor topography. To help guide you through the maze of buying the best products for your needs, KitGuru decided to create a Technology Buyer's Guide to routers. The advice given has been based around KitGuru reviews this year. It is free to download and we encourage you to share it with anyone who has questions about networking.
Click the image below to read the guide. Feel free to SAVE a copy to your system and share with friends and family.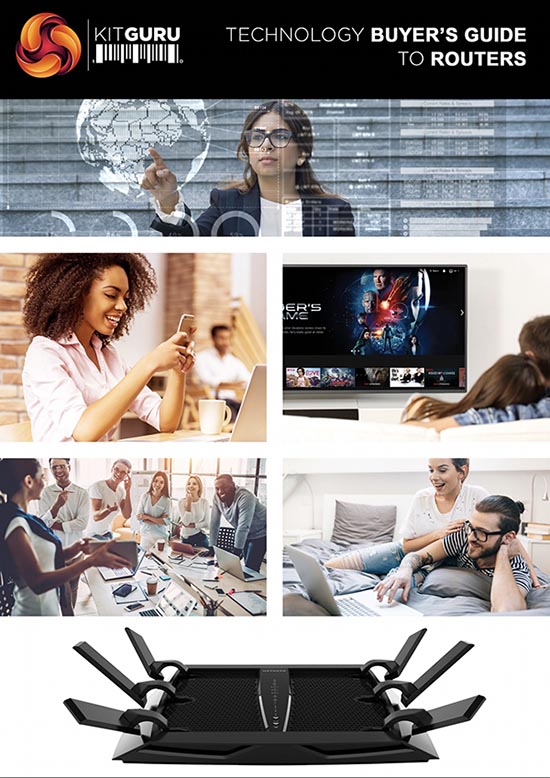 After introducing the subject, discussing the state-of-the-art and including a glossary of the technical terms, we then look closely at usage models – how different groups of people use routers to solve different challenges – from professionals to gamers. We interview an industry expert about what we can expect in the future – and include an guide to the DOs and DON'Ts.
Any numbers quoted or test results will have been drawn from our detailed testing over the past 18 months on KitGuru.net.
While we have worked hard to create a guide that is truly independent and useful for KitGuru readers, it's always possible that it can be improved. If there are any changes that you think we should have made, then please let us know. Similarly, if you'd like to see guides for other areas of technology – email us using allan(at)kitguru.net and we'll get a discussion going internally.
Do not use text or images from this guide and claim it as your own. This is a KitGuru guide, written by our team and credit should be given to KitGuru.net. If your website shares this guide, it cannot be disassembled and reconstructed. No financial gain is authorised from the redistribution or circulation of this guide, either online or in printed form.