Samsung Electronics this week announced that it will start high-volume production of semiconductors using its 10nm manufacturing process by the end of next year. The company also showcased a wafer processed using the technology for the first time.
Samsung Foundry did not reveal a lot of information about its 10nm production process, but indicated that the technology will continue to use fin-shaped field-effect transistors (FinFET). The Samsung 10nm fabrication technology promises to offer "significant power, area, and performance advantages," reports EETimes. The technology is designed for a broad range of applications, including consumer electronics, mobile devices, computing, networking, and data center infrastructure, according to SemiMD.
Based on the initial information that Samsung revealed about its 10nm fabrication process, it seems that the technology will not rely on an outdated back-end-of-line interconnection flow, which means that chips produced at 10nm node will be smaller than the same chips made using 14nm FinFET technology. Samsung's 14LPE and 14LPP manufacturing processes feature smaller transistor fin and transistor gate pitches, but rely on 20nm BEOL with rather large interconnection pitches, which means increased chip sizes and per-transistor costs. Shrinking geometry of all pitches results in higher transistor density and lower per-transistor costs, something that will be a huge benefit for many companies who use Samsung Foundry's services.
The fact that Samsung demonstrated a 300mm wafer processed using its 10nm technology means that specifications of the process have been largely finalized. Preliminary process design kits for 10nm should be ready by now and the first tape outs of 10nm chips are expected in late 2015. It is currently unknown whether Samsung plans to offer several versions of its 10nm manufacturing technology.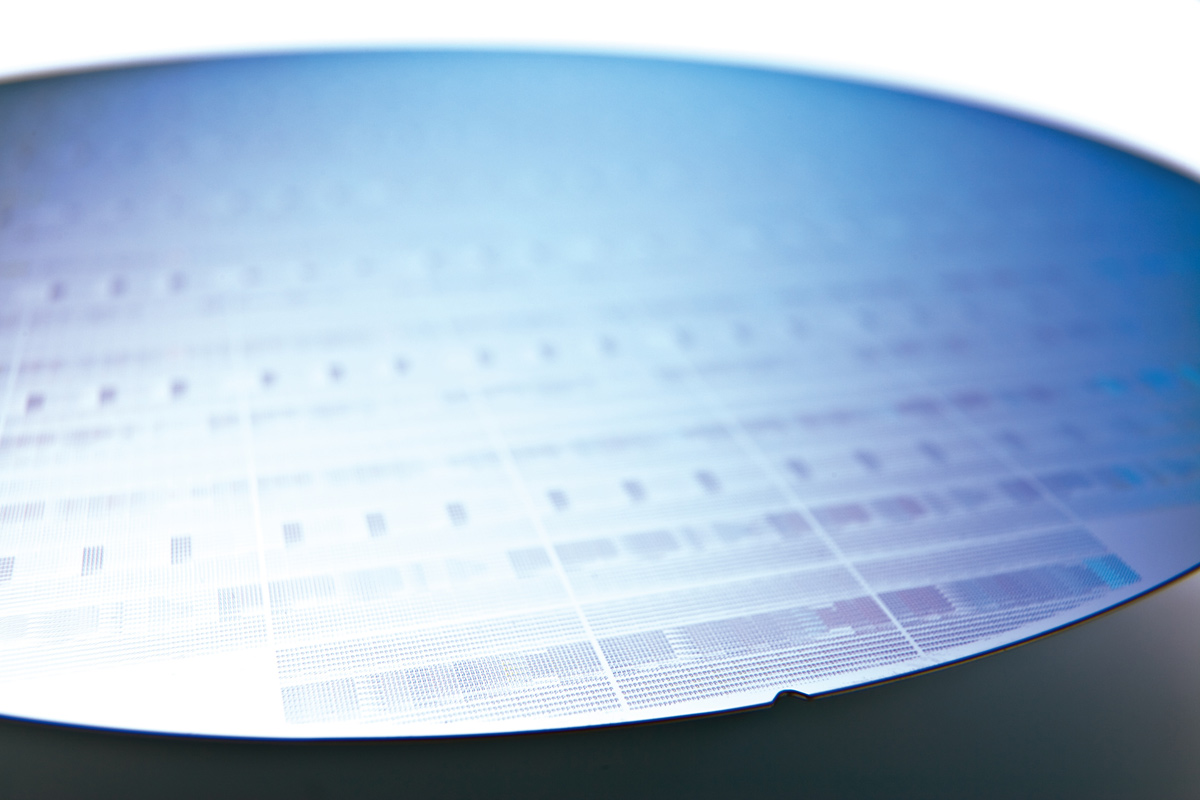 Apple will be a key customer for Samsung Foundry with its 10nm chips, according to Handel Jones, chief executive officer of International Business Strategies. If Samsung begins high-volume production of 10nm processors in late 2016, then Apple will be able to produce 10nm system-on-chips for its 2017 smartphones and tablets. Apple orders whopping 40 thousand wafers per month, which would significantly help fill a fab.
"The only customer that will really drive [high wafer volumes] is Apple," said Mr. Jones. "If you miss the big ones then you basically have a big problem."
At present Samsung Foundry is ramping up high-volume production of chips using 14nm FinFET process technologies at its S1 wafer fabrication facility in Hwaseong, South Korea, and S2 fab near Austin, Texas. Samsung was the first contract maker of semiconductors to start producing ICs using its 14nm technology in high volume. GlobalFoundries, a Samsung's partner, is also ramping up production of chips using 14nm LPE [low-power early] manufacturing tech at its fab 8 in Saratoga County, New York. Samsung Electronics uses 14nm Exynos 7 Octa application processor inside its Galaxy S6-series smartphones. It is believed that at present the company is starting to produce the first wafers with Apple's A9 system-on-chips that will power the company's next gen iPhone and iPad products.
"We are in business for 14-nanometer FinFET," said Hong Hao, senior vice president for Samsung's foundry business. "We have brought broad competition back into the foundry business."
Discuss on our Facebook page, HERE.
KitGuru Says: It looks like all three leading makers of semiconductors – Intel Corp., Samsung and Taiwan Semiconductor Manufacturing Co. – are getting very aggressive about 10nm ramp in 2016. The question is who will be the first?