The short version of this review is that Phanteks has given its Enthoo Pro M case a minor update and has changed the main side panel for a sheet of tempered glass. The slightly longer version is that Phanteks has revised its superb entry level Pro M case by replacing one of the few weak features, a flexible steel side panel with a so-so plastic window, with a gorgeous panel of tempered glass.
Spoiler alert, we like Pro M Glass very much indeed.
Specifications:
Dimensions: 235 mm x 480 mm x 500 mm (W x H x D)
Colour: Black
Form Factor: Mid tower Chassis
Material(s): Plastic Exterior, Steel Chassis, Tempered Glass side window.
Motherboard Support: E-ATX *(up to 264mm wide), ATX, Micro ATX, Mini ITX
Front I/O: 2x USB 3.0, Mic, Headphone, Reset
Expansion slots: 7
Internal 3.5″: 8x (2x included)
Internal 2.5″ (dedicated): 3x (1x included)
Cooling: 120mm Fan – Front: 2x (3x without ODD Cage), Top: 3x, Rear: 1x
Cooling: 140mm Fan – Front 2x (1 included), Top: 2x, Rear: 1x (1 included)
Liquid Cooling: 120mm Radiator – Front: Up to 360mm, Top: Up to 360mm, Rear: 120mm
Liquid Cooling: 140mm Radiator – Front: Up to 280mm, Top, Up to 280mm, Rear: 140mm
Graphic card Clearance: 420mm No HDD brackets, 300mm HDD brackets installed
PSU Clearance: 318mm
CPU cooler Clearance: 194mm
Cable management: 35mm
Net Weight: 7.4kg
Warranty: 5 Years
Phanteks Enthoo Pro M is a mid sized tower case that packs in a surprising number of features. Taken at face value, it looks good, is well built and has a neat power supply cover that allows you to tuck most of your cabling out of sight. The original side panel was perfectly OK, however the new tempered glass panel is absolutely superb and shows off the innards of your PC to full effect, as you can see in our photos and videos.
It is not immediately obvious that Pro M supports an E-ATX motherboard (as well as ATX/mATX/Mini-ITX), although you can expect to lose access to the cable management holes if you go down that route. In addition, you can easily slip a 240mm or 280mm liquid cooler in the front of the case and there is also a decent amount of room for cooling in the roof of the case. The sliding rack in the roof makes life considerably easier if you are installing fans or a radiator as you have full access to the mounting screws.
If you choose to go the whole hog and install a 360mm radiator in the front or top you will need to remove the optical drive cage. Or, to put it another way, if you install a modest cooling system you can also employ a DVD drive.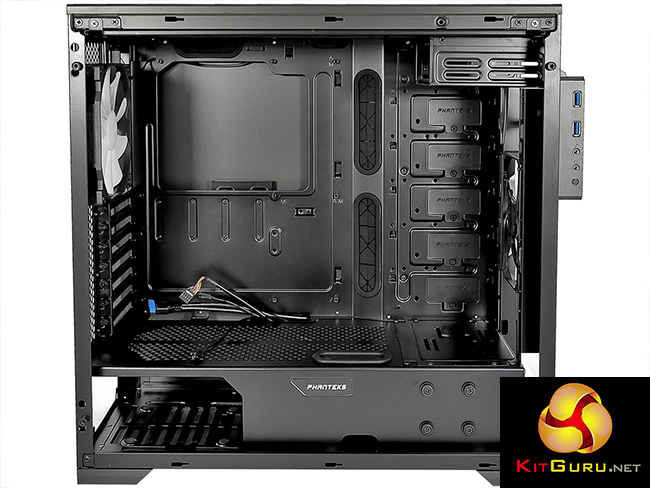 Once you move beyond a basic PC installation you will find there is a good deal of potential with Pro M. The two drive caddies in the bottom of the case are hidden out of sight and can each accommodate either a 2.5-inch or 3.5-inch drive and there are three mounting points where you can position the single 2.5-inch SSD mount. If you feel the urge you can buy accessory drive mounts from Phanteks and install another six 3.5-inch drives and two 2.5-inch drives.
On the rear of the motherboard tray there is a mounting point for a Phanteks PWM hub.
Alternatively you can go in the opposite direction and remove the two drive caddies and the plate above them in the power supply cover and mount a pump in that location. Phanteks lists an accessory pump mount that is compatible with DDC pumps, but not D5, so we ploughed our own furrow and used a fan bracket to mount an EKWB D5 pump inboard of the 240mm Alphacool radiator. The compact EKWB reservoir is secured to one of the holes in the rear of the chassis below the I/O panel.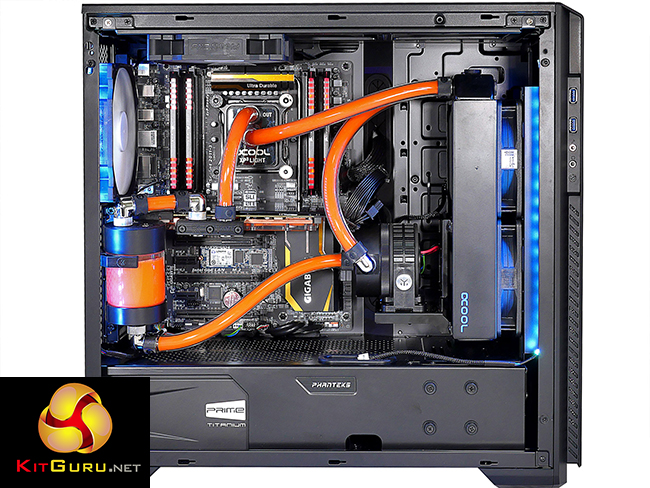 In the finished build we especially like the way the power supply cover separates the main chamber from the lower section and hides all the cables while at the same time showing off the logo on our chosen Seasonic Prime Titanium power supply.
We choose Mayhems Pastel Orange coolant which has a notably pink tinge when the glass side panel is installed. The panel has a blue tint and the Phobya LEDs we installed in the Phanteks also appear quite blue when they were actually set to white. From this we conclude that orange plus blue looks more like coral.
Testing
To put this case through its cooling paces we will be using a test system consisting of an Intel Core i7-5820K, EVGA GTX 980 and an SSD. This system allows us to produce a substantial amount of heat and effectively test the Phanteks Enthoo Pro M Glass' cooling capabilities.
For stress testing we use AIDA64 to create the maximum heat output to stress our CPU and GPU.
Test System:
Processor: 3.6GHz Intel Core i7-5820K
Motherboard: Gigabyte GA-X99-UD4
CPU cooler: EKWB and Alphacool custom loop
Memory: Corsair Vengeance LED DDR4-3200MHz RAM
Graphics card: EVGA GTX 980 4GB
Power supply: Seasonic Prime Titanium 750W
Storage drives: Kingston 240GB SM2280
OS: Windows 10
Cooling Performance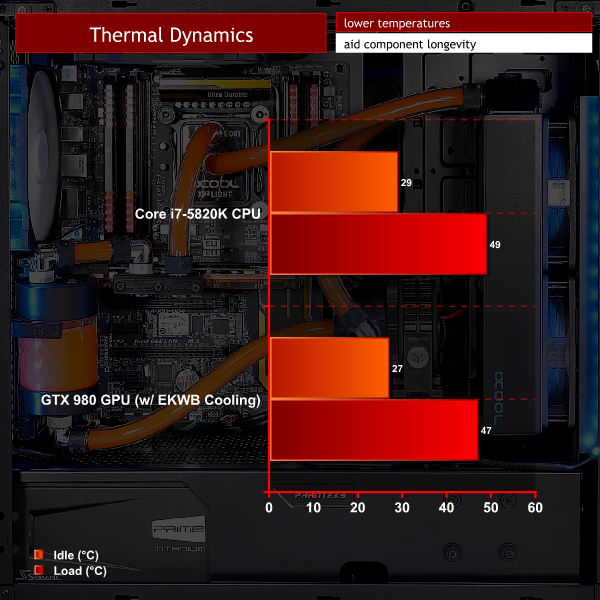 There isn't much space inside Pro M and while it cools perfectly well the figures are a few degrees warmer than a larger case with an open construction. The intakes at the front of the case are a series of discreet slots that clearly present a restriction so if you are looking for an air flow monster you should probably look elsewhere.
For the vast majority of PC builders this design will work very well indeed.
Acoustics performance

Enthoo Pro M doesn't use any noise deadening material in its construction so if you install a bunch of noisy fans or crank up a DDC pump you are almost guaranteed to hear a certain amount of noise. On the other hand, our chosen PC build was very quiet indeed, despite the fact we used both of the stock fans along with two Alphacool fans on the radiator.
You are unlikely to build a silent PC in a Pro M but you can certainly build a very quiet PC without much difficulty.
Closing Thoughts
We liked the original Pro M and pretty much our only complaint was the side panel with its plastic window. The panel could buzz and rattle but it looked OK and was certainly acceptable but wasn't great. By contrast, the new tempered glass panel is superb and sits on rubber mounts that keep it utterly silent.
It looks like a simple upgrade but makes a world of difference to Pro M and naturally the glass shows off the inside of your PC superbly well.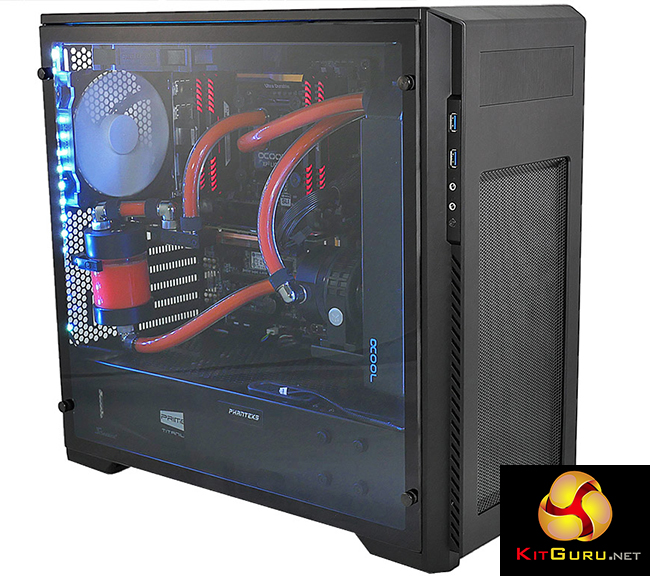 There isn't much space inside Pro M so you need to choose whether you want to place the emphasis on drive bays, liquid cooling or expansion cards. You can have the best of all worlds if you retain the two hidden drive caddies. However, if you install a pump in that location your options might become somewhat limited.
We are impressed by Enthoo Pro M Glass and consider it to be a superb entry-level case for the enthusiast that gives you a number of options for your PC build, as well as giving you the scope for future upgrades.

The Phanteks Enthoo Pro M Tempered Glass case is available from Overclockers UK for £87.95 (inc. VAT).
Discuss on our Facebook page, over HERE.
Pros:
Full-sized glass panel
Ability to add plenty of cooling, including a custom loop.
Dust filters at the front, top and PSU intake
Sliding mount for top liquid cooler.
Hook and loop cable management straps.
Cable grommets are well located.
Power supply cover.
Cons:
Few drive bays are provided to keep costs low.
We doubt many Pro M customers will make use of the advanced options for cooling.
KitGuru says: An excellent case that looks even better with the new glass side panel.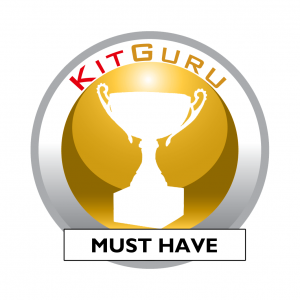 Be sure to check out our sponsors store EKWB here