A professional overclocker has set a new record for Intel Core i7-6700K microprocessor frequency. This time the new code-named "Skylake" processor hit nearly 7GHz, which is among the highest frequencies ever achieved by any Intel Core i-series microprocessors.
Chi-Kui Lam, a professional overclocker from Hong Kong-based HKEPC web-site, has managed to overclock an engineering sample of the Intel Core i7-6700K "Skylake-S" microprocessor to 6998.88MHz, or by whopping 74.97 per cent compared to its stock frequency. To hit nearly 7GHz, the overclocker had to disable three cores out of four and the Hyper-Threading technology. Voltage of the processor was increased from 1.2V to 1.888V.
To set the record, Chi-Kui Lam used a testbed featuring Asrock Z170 OC Formula mainboard, a G.Skill Ripjaws 4 DDR4 memory module as well as a 1300W power supply unit. The processor was cooled-down using liquid nitrogen (LN2).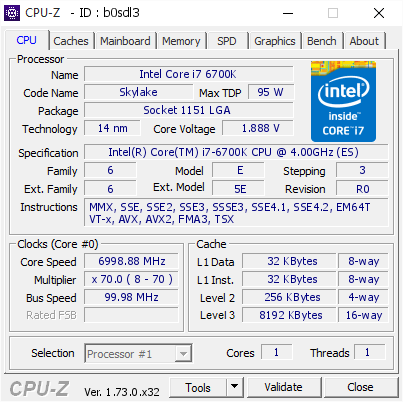 The Asrock Z170 OC Formula is a premium platform for overclockers designed by Asrock and Nick Shih. The motherboard features 17-phase voltage regulator module for microprocessor that is based on high-end solid-state chokes and capacitors. The motherboard has sophisticated capabilities for overclocking and expansion. The platform sports four PCI Express 16 slots for graphics cards or solid-state drives, three high-performance M.2 (PCIe 3.0 x4) connectors for SSDs, two SATA Express connectors, USB 3.1 and so on.
Discuss on our Facebook page, HERE.
KitGuru Says: 7GHz clock-rate is clearly achievable by Intel Core i7-6700K "Skylake" processor. What remains to be seen is whether retail versions of chips will actually manage to hit 5GHz clock-rates with commercially available cooling systems and all four cores active. Extreme overclocking shows that the chips do have potential, but the value of a single-core CPU nowadays is negligible…