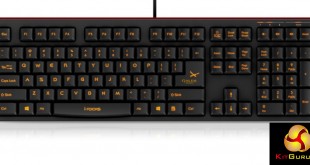 Although we do love a good mechanical keyboard here at KitGuru, we're not blind to the fact that it is not the only way to do things. There are of course traditional membrane, rubber done keys and the more laptop orientated scissor switch, a modified version of which is what i-rocks has utilised in its new Golem Series K50E board. It has quite a standard look compared to the average LED festooned gaming board, but this one does have a basic level of backlighting, a few media keys and some subtle styling.
Is it worth its modest price tag and is it a worthy alternative to the many mechanical boards dominating the peripheral scene?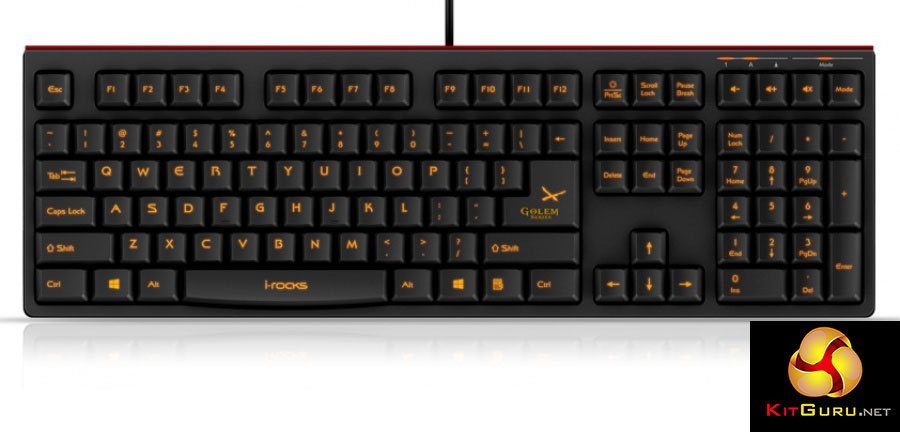 Features
Unique High Scissor-Structure for comforting and stability.
3.8mm key stroke and Illuminated function to suit gaming needs.
Supports simultaneous activation of multiple keys, no ghosting and jamming.
Adjustable responsiveness to adapt to needs of individual games.
Windows and App keys disabled in gaming mode to prevent accidental activation.
Plug and Play, no drivers required.
Specifications
Interface: USB or PS/2.
Keys: 108 ( By language).
Key stroke : 3.8 ±0.3 mm.
Key force: 55±15g.
Anti-ghosting: 24Keys in PS/2 (In main area), 13Keys in USB (In main area).
Switch life: about 30 million life cycles.
Membrane key-switches with Scissor-Structure..
Illuminated ON/OFF function.
Electric current: 300 mA maximum.
Voltage: DC5V.
USB cable length: 180 cm.
Dimensions: 447 (L) x 144 (W) x 33 (H) mm.