We look at quite a lot of gaming mice here at KitGuru, many of them sitting over the £50 mark. But what if you only have £25 to spend? Today we are taking a look at the Shark Zone M20 Gaming Mouse from Sharkoon, it boasts many of the same features found on high-end mice, could this be a hidden gem in the saturated peripherals market? Lets find out…
The Shark Zone M20 comes with several reprogrammable buttons, Omron switches for a longer life span and a 3200 DPI sensor, which is common on mice in this price range.

Features and Specifications:
Nine programmable buttons.
Omron switches.
3200 DPI optical sensor.
Weight tuning system.
Max acceleration: 30g.
Max weight: 120g.
Lift-off sensitivity: 3mm.
The Shark Zone M20 comes in an appropriately sized box with a magnetic flap on the front, revealing the mouse inside. The back of the box on the other hand boasts key features, such as the Omron mouse switches, optical sensor and nine re-programmable buttons.

As you can see, the mouse comes with yellow LEDs, fitting in with the color scheme. There is also a nice long braided USB cable, we don't normally expect to see braided cables on budget end mice but it is a welcome addition, making it feel more premium.
There are nine buttons in total on the mouse, this figure does take in to account the DPI toggle, the mouse wheel and the main left and right clicks. Personally, I don't like re-purposing the DPI toggle, mouse wheel or the main two mouse switches, which ultimately leaves me with five extra buttons to play with- which is plenty.
The weight tuning system can be accessed via the flap towards the rear end of the mouse. There are five separate little weights inside, allowing you to adjust things to your liking. This level of customization is fantastic and isn't particularly common in peripherals at this price point.
For my testing, I chose to use the Shark Zone M20 as my main mouse over an extended period of time, replacing my Roccat Tyon. Real world testing scenarios are particularly important when it comes to peripherals as there is no straight forward way to asses them.
First we will take a look at the M20 Gaming Mouse Driver, which will let us delve in to all of the additional customization options.
Sharkoon has condensed everything in to one neat and organised window.
The software is very straight forward to navigate, with drop down menus for all of the different mouse button commands. There are even presets for media functions and basic commands. However, if you need something a little more advanced, then there is a dedicated macro recording tool as well.
You don't have a ton of leeway with DPI settings, which is a shame. Users pick from 400, 800, 1,600 and 3,200 dpi, some freedom here would have been nice, for example, I usually like to set my mouse to 2,200 dpi but here I am limited to 1600 as 3200 is a bit too high for my liking.
In the Color Control menu, you can turn the lights on or off and set up a pulsation effect. I quite liked the yellow lights found on the M20, although I wasn't really a fan of the pulsation effect so I left that switched off.
In the advanced menu things get a little more in-depth. You can pick varying levels of sensitivity, acceleration, scroll speed and double-click speed. There is plenty here for those who are serious about their mouse settings to play around with.
Overall, Sharkoon has developed a decent software driver for the M20. My only issue with it is the lack of flexibility when it comes to DPI settings, which could put some people off. That said, I managed just fine using the 1600 DPI setting.
Now lets talk a bit about comfort and usability. For claw grip types, this mouse might take some adjusting due to the addition of the third button running along the right side of the mouse. It would be tricky to hover your finger over it without accidentally pressing it in every so often.
However, I tend to go with palm grip, which this mouse seems to be built for as it is the most common grip type. The mouse is shaped perfectly, fitting in my hand well with all of the buttons easily accessible.
While gaming, I found the extra mouse button running along the right side of the mouse to be particularly useful, it makes for a really good grenade button in Counter-Strike, while in other shooters, like Battlefield, I found it useful for melee attacks.
The third button feels like a natural fit and is incredibly easy to get used to and integrate in to many games. I bound the button to my health potion in Dragon Age Inquisition for example, which saves me from having to fumble around with my number keys in-game.
The four buttons on the left side of the mouse surrounding the thumb groove are also nice additions, although I found the two black buttons to be a little hard to reach with my thumb while holding the mouse normally. I did not face the same issue with the two upper yellow buttons, these were much easier to reach and are likely to be more useful.
Aside from that, the mouse performs well, I had no issues with the optical sensor on flat wood, a granular mouse surface and a regular cloth mouse mat. Additionally, despite the primarily plastic build, I found the M20 to be very sturdy.
Overall, I am extremely pleased with the Sharkoon Shark Zone M20 Gaming Mouse. It manages to retain many of the key features found on more expensive gaming mice, it has plenty of customization options and most importantly, it didn't make me miss my Roccat Tyon.
Build quality is solid enough, it is made of plastic but it doesn't feel any weaker than the mice at the higher end of the spectrum. The third button running along the right side of the mouse turned out to be particularly useful. I did encounter some placement issues when it came to the two black buttons on the left side of the mouse but aside from that, I have no complaints.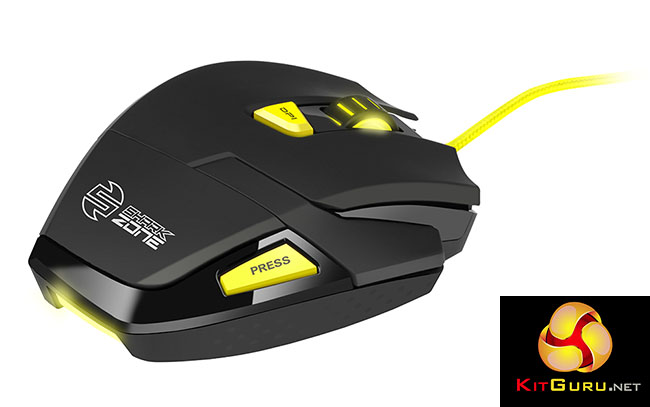 Sharkoon's software does the job, it is neat, organised and delivers most of the customization options one would expect. However, the lack of flexibility when it comes to DPI sensitivity is concerning, 1600 DPI is my personal bare minimum while I find 3200 to be a little too high.
Having the freedom to choose my own custom DPI setting would have been nice, rather than being bound to a predetermined option.
That said though, I had no problems with the optical sensor and I found tracking performance to be perfectly fine. Honestly, for £25 it is seriously difficult to go wrong.
The Sharkoon Shark Zone M20 Gaming Mouse manages to deliver in spades, it is feature packed and it performs just as well as you could ask for. You can currently pick one up from Amazon for £25.98, at this price, the M20 is an absolute no-brainer.
Discuss on our Facebook page, over HERE.
Pros:
High level of customization.
Weight tuning system.
Software performs well.
Long braided cable.
Decent tracking performance.
Cons:
Lack of flexibility with DPI settings.
Third button might get in the way for claw grip users.
KitGuru Says: I am seriously impressed with the Shark Zone M20. It delivers everything you could want in a high performance gaming mouse at a low price. Its sensor is limited to 3200 DPI but if that doesn't bother you, then this is a worthy purchase.