A web-site has published excerpts from an alleged AMD presentation that describes the company's upcoming Radeon R9 390X graphics card. As expected, the new top-of-the-range graphics from Advanced Micro Devices will feature unprecedented performance thanks to massive amount of compute horsepower and high-bandwidth memory.
The slides from an AMD presentation for its partners, which were published by Videocardz web-site, reveal a number of previously unknown details about the Radeon R9 390X. As expected, the code-named Fiji XT graphics processing unit has 4096 stream processor and 4096-bit HBM memory bus. However, unlike previously suggested, the graphics card carries 8GB of memory, not 4GB of HBM DRAM.
The forthcoming Radeon R9 390X GPU will feature improved GCN 1.3 architecture with full DirectX 12 implementation. According to AMD, the new chip will support new dual-GPU modes as well as specialized render modes for VR gaming. The processor will also support new H.265/HEVC decoder.
In a bid to install 8GB of memory, AMD used multi-layer 1GB chips from SK Hynix on dual-link interposer. Previously it was believed that AMD would only equip its new graphics card with 4GB of memory. Peak memory bandwidth of the Radeon R9 390X will be 640GB/s.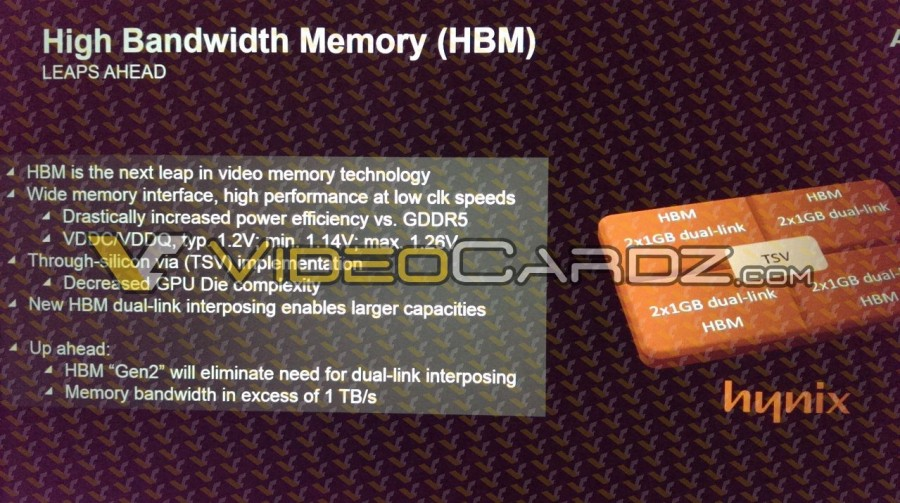 The Radeon R9 390X will have peak compute performance of 8.6TFLOPS, which is even higher than that of the GeForce GTX Titan X.
In addition to traditional version, AMD plans to introduce Radeon R9 390X WCE [water-cooled edition] with improved performance that will be designed specifically for enthusiasts. The typical version of the R9 390X will require one 6-pin and one 8-pin auxiliary PCIe power connectors, whereas the WCE will use two 8-pin connectors to deliver more power to the graphics adapter and improve its overclocking potential. It is unclear whether AMD plans to release Radeon R9 390 in addition to the R9 390X and the R9 390X WCE.
According to AMD's own performance estimates, the Radeon R9 390X will be 55 – 65 per cent faster than the Radeon R9 290X.
AMD did not comment on the news-story.
Discuss on our Facebook page, HERE.
KitGuru Says: Since AMD is already showcasing Radeon R9 390X in action, it is not surprising that its specifications show up on the web. Still, we have no idea whether these specs are final.