OCZ Storage Solutions, a maker of solid-state drives controlled by Toshiba Corp., is working on a new family of client SSDs powered by triple-level cell (TLC) NAND flash memory. The new solid-state storage devices will be aimed at inexpensive PCs, they will provide performance comparable to that of advanced SATA-6Gb/s SSDs, something that will barely impress enthusiasts.
The OCZ Trion 100-series SSDs will be based on Toshiba's Alishan SSD controller as well as on the company's TLC NAND flash memory made using second-generation 19nm process technology. Toshiba has been using TLC NAND for special-purpose SSDs for over half of a year now. Therefore, the company's Alishan controller and supporting firmware should be mature enough for retail client SSDs.
OCZ does not reveal a lot of technical specifications of the Trion 100-series SSDs. Trion 100's preliminary performance ratings include up to 550MB/s of bandwidth and up to 91,000 random read IOPS, according to OCZ. The drives will likely use Serial ATA-6Gb/s interface as well as 2.5"/7mm form-factor.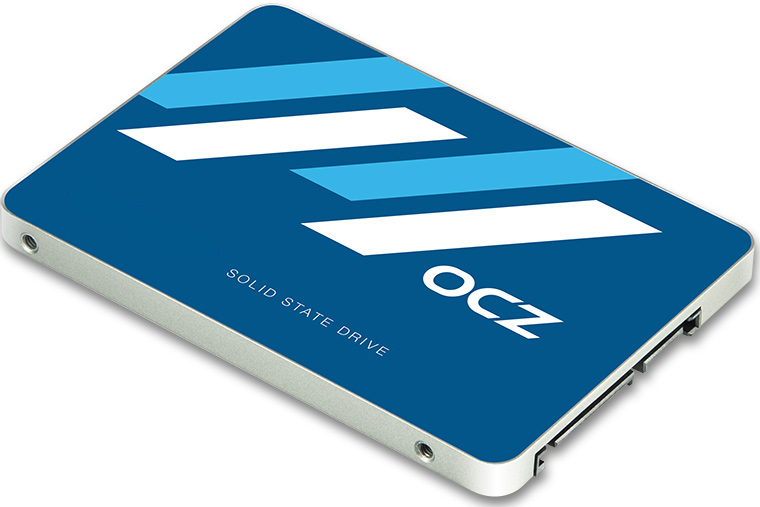 TLC NAND flash is currently the most affordable type of NAND flash memory produced by Toshiba. Triple-level cell NAND wears out considerably quicker than multi-level cell (MLC) NAND, but with proper controller and firmware this type of memory could be used for reliable and fast SSDs. For example, Samsung Electronics has been offering TLC-based solid-state drives for years.
The release of inexpensive TLC NAND-based SSDs will clearly make OCZ's lineup more competitive. Moreover, affordable prices of Trion 100-series drives will make SSDs accessible to many users.
OCZ will demonstrate its Trion SSDs at Computex 2015 next week. The drives will be available later this year.
"Computex is the ideal venue for us to unveil our upcoming TLC NAND-based Trion 100 SSDs," said Alex Mei, chief marketing officer and general manager of the client business at OCZ Storage Solutions. "By leveraging controller and TLC NAND technology from Toshiba, we are pleased to be able to bring to market the exciting new Trion 100 SSD Series which will offer end-users an optimal mix of performance, features, and value, making it easier than ever for value-conscious consumers to leverage the benefits of a high quality yet affordable SSD that delivers improved desktop and mobile computing experiences."
Discuss on our Facebook page, HERE.
KitGuru Says: For some reason, OCZ Storage Solutions decided to use Toshiba's Alishan controller instead of its own JetStream chip. It will be very interesting to learn the reasons behind this decision.