As the conveyor belt of made-up holidays continues its never ending cycle past us punters, the next on the list is Father's Day. This year, it falls on 15th June – which gives you a last window of opportunity to show your appreciation. Go on. You know you want to.
Although birthdays and Xmas/Eid/Diwali/Chanukkah are the biggies, it's not good to miss Father's Day. That said, you don't want to be spending a fortune. The 'win' here for all you off-spring out there, is to pick something that costs less than a tank of petrol, but makes it look as though you are a thoughtful and considerate son/daughter.
For a dad, that usually only means one thing: Tech.
In no particular order, here are 5 ideas from the KitGuru team:-
Boost your home network
While modern wireless routers are pretty decent – even the freebies you get with BT Infinity etc – there will still be situations where one person might want a much faster, more stable connection in a room that's far away from the router. If your dad likes to escape, then maybe something like a TP-Link AV500 Gigabyte Powerline adapter for £49 might come in handy. Plug one end into the mains/router and the other into another one of your home's power sockets far away and, hey presto, high speed internet from a distance.
Back up now, before it's too late
Sure, your dad has been promising himself for years that all of his most important files will be backed up – but has he ever done anything about it?  Remove the doubt with a 1TB Samsung USB3 portable drive – also around £49.
Bluetooth Bass Boost
If you're honest, you've driven your dad from the sitting room TV and the second telly is being used for soaps/console gaming. Now, the poor old chap is resigned to an iPad or smartphone screen. While the image quality is pretty decent, the volume is weak. Solve the problem with a Wavemaster MOBI-2 Bluetooth speaker. It's rechargeable and will go for more than one day with a single juicing session. Connection is easy and the sound quality is great for its size. Available from Amazon for around £24.
Brand new HD screen
OK, this will be toward the top end of your budget, but if your old man has been suffering with a wobbly old monitor that can't even support 1920×1080, then maybe you should treat him to an Asus VS228DE 22″ HD monitor. It connects on VGA, so his old cable should do the trick. We managed to find this online for £79.
USB everywhere and not a port to dock with
If you see your dad constantly swapping plugs in and out of his PC, then maybe you can splash the cash to the tune of £12 and get him 4 new USB 3.0 ports on the back of his system. Dynamode make some very affordable products and this one is no exception.
Alternatively, just get him flowers and chocolates and watch him pretend to like them.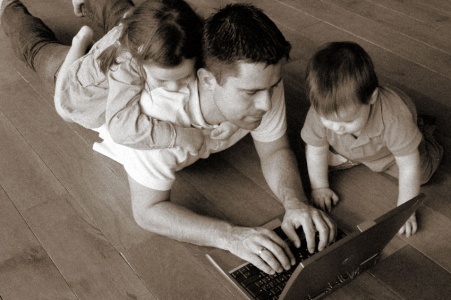 KitGuru says: Whether you go for something on this list – or you get creative on your own – technology is as safe a bet for most blokes as chocolate is for the ladies. Share this article with any friends that are stuck.
Let us know what you think about Father's Day gifts over on Facebook.