Alongside the hotly anticipated second generation of Pixel smartphones, Google announced a refresh of its Chromebook line starting with the brand new Pixelbook. Built with a 4-in-1 design, the lightweight laptop is aimed to fit most needs of its user.
The Pixelbook is Google's first high-powered Chromebook since it began discontinuing the Chromebook Pixel last year, featuring the Chrome OS, with a focus on the Google Assistant AI and Google Play ecosystem of applications. Coming in at just 10mm thin and a weight of 1kg, the Pixelbook is the most portable laptop Google have to offer.
It features a 12.3-inch touchscreen Quad HD LCD display with 235 pixels per inch, with soft-touch keys with an illuminated backlit design. It comes in i5 and i7 variants with up to 16GB RAM and 512GB storage. Google claims that it has an average battery life of 10 hours, with a fifteen-minute charge resulting in 2 hours' worth of use from its USB-C charger.
Being a part of the Pixel family, the Pixelbook connects to its respective range of smartphones seamlessly, allowing for the Pixel handsets to act as a tethered wireless device without manually setting up a hotspot.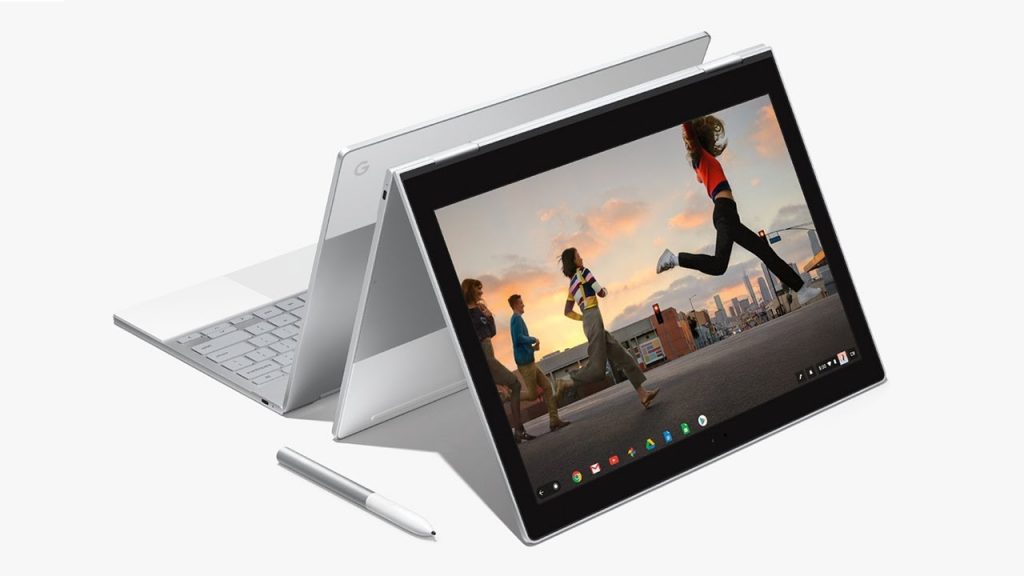 Google Assistant is at the core of the Pixelbook, built in similar to how Cortana is for Windows 10. This enables the new laptop to make full use of the expanded functionality of the AI as well as connect and communicate with other Google devices with ease.
Google touted its Pixelbook's 4-in-1 design which seems an awful lot like a glorified 2-in-1, in the core modes are the Pixelbook's laptop and tablet functionality, with the remaining two other modes being different ways of propping the device upright. With that being said, the remaining two modes are inversing the keyboard to angle the screen for home viewing and propping it up like a tent.
Taking a second cue from Microsoft is the introduction of its Pixelbook Pen, which acts similar to how the Surface Pen acts with Surface devices. Working directly with graphics tablet veterans, Wacom, the Pixelbook Pen is designed with 10ms of latency, 60 degrees of angular awareness and 2000+ levels of pressure sensitivity.
The Pixelbook starts at a price of $999 whereas the Pixelbook Pen comes in at $99. Both devices are available for pre-order, hitting shelves on the 31st October.
KitGuru Says: With the Pixelbook making full use of the Play Store, I imagine that Google have curbed some worries of the ChromeOS limitations but it still won't be as versatile as a Windows-powered laptop at first as Android apps don't often play nicely with larger screens. Hopefully its ever adapting AI can push past that. What do you think of the Pixelbook?