The week of Cyber Monday sales is coming to a close, but it isn't over for MSI here in the UK. The company is giving one last slash to the prices of its desktop offerings, throwing in some free goodies for eligible purchases for good measure.
First up is eBuyer's deals on the MSI Codex and MSI Aegis pre-built PCs. While these are not receiving a traditional price cut, MSI has instead opted to bundle in a free MSI Gaming Keyboard and Mouse, alongside the chance to grab its Optix G27C2 27", 144Hz Gaming Monitor for half price.
While Box isn't offering the same bundle, if the MSI Aegis has taken your fancy, the company is currently cutting its price by a whopping £300. This model includes an Nvidia GeFroce GTX 1070, an Intel Core i5-7400, 256GB M.2 SSD as the primary storage device, backed by a 2TB HDD and 16GB of Memory, all for under £1,000.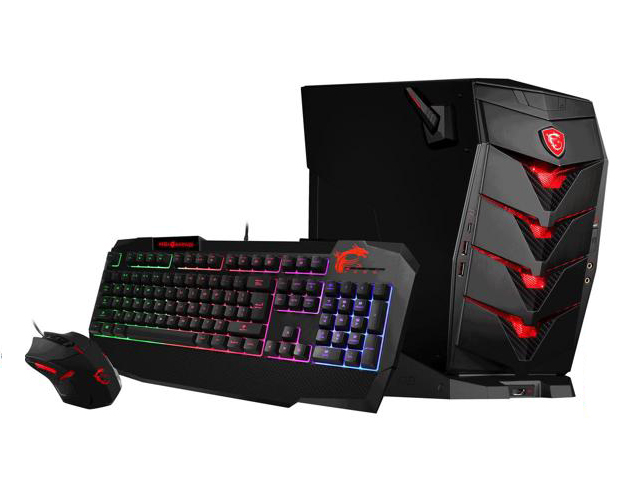 Argos is housing a special promotional price on the MSI Codex 3, the company's gaming desktop primed for 1080p titles, all for £799. Specs include an Intel Core i5 quad core at 3 GHz, Nvidia's GTX 1050Ti and 8GB of RAM.
Finally, PC World is holding a deal on the super compact MSI Nightblade gaming PC, containing a Kaby Lake Intel Core i5-7400 that can be boosted to 3.5 GHz, Nvidia's GTX 1070 and 8GB of DDR4 RAM at 2400 MHz. It's a PC about the length of the 1070 inside, with a big £400 chopped off the asking price.
KitGuru Says: Usually the deals post-Black Friday often don't measure up to the consumer event itself, but MSI has managed to give customers another chance at some great savings in the run up to Christmas. Does any of the above catch your eye?