Metal Gear Solid has had a love affair with Triumph motorcycles for years, having featured them in Metal Gear Solid 3: Snake Eater, Metal Gear Solid 4: Guns of the Patriots and Metal Gear Solid: Peace Walker. To continue that trend and celebrate the upcoming Metal Gear Solid V: Phantom Pain, Triumph have created a custom VTB:1 Venom motorbike in real life.
Based off of the Triumph Bonneville T100 that Snake rides in the new game, the Venom has been styled to look like it's ready for action, with the "stripped back edge" that's required of such a tool of Snake's trade. While it does feature some artwork depicting the Diamond Dogs logo, this bike comes without a speedometer, without mirrors or a rev counter, as in the world of Phantom Pain, those are just unneeded extras.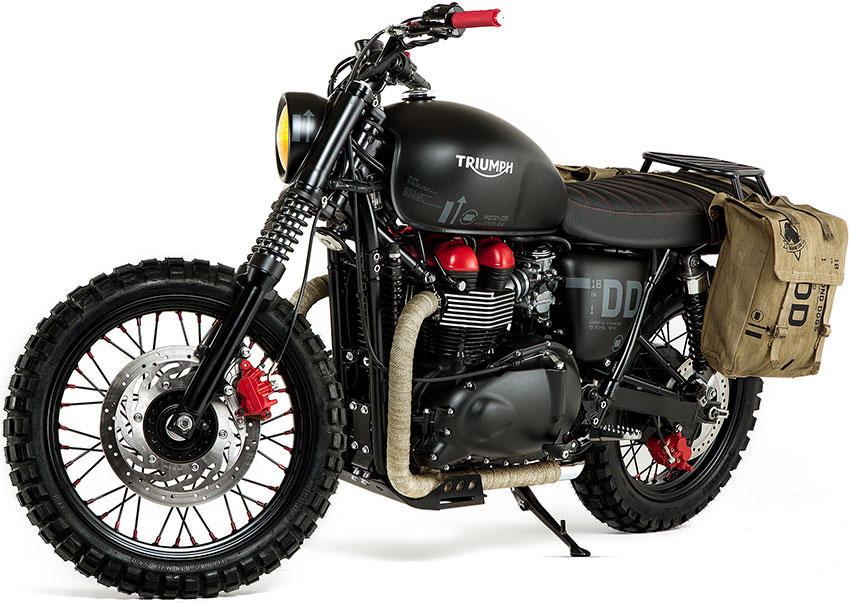 With function defining form, Triumph also fitted the bike with off-roading Continental TKC80 tyres, a reduced height seat made from neoprene and kevlar leather "inspired by Snake's iconic combat wear," according to AGB. If you happen to have a spare ammo crate with you (or you know, a bag) then the rack at the back will be perfect for tying it down.
Other standout features include a JVB rumbler headlight, heavy duty fork springs, colour matched callipers and off road foot pegs, completing the look. The bike was first shown off in person at this year's MCM London Comic Con and will tour around the UK throughout the year.
Discuss on our Facebook page, HERE.
KirtGuru Says: Unfortunately it doesn't seem likely that this one is going on sale, but if you desperately wanted it, getting in touch with the Konami PR team and seeing what they want to do with it at the end of the press tour might be the way to go.