It was no fluke when Space X landed its Falcon 9 first stage rocket on its automated drone barge last month, as it's managed to do it again. This time following stage separation, sending the JCSAT-14 payload off into orbit, the first stage booster returned to Earth, landing smoothly on the drone barge, despite added difficulties.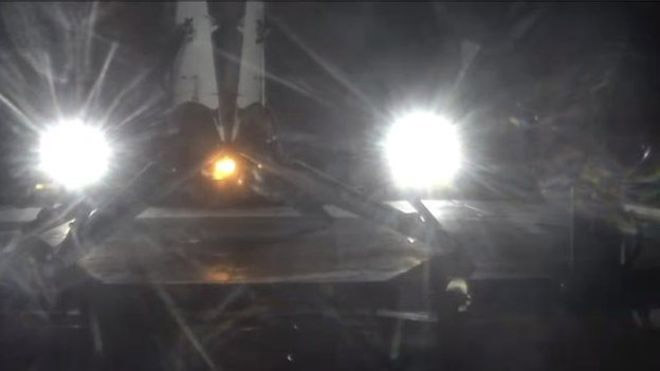 Source: Space X
The history of Space X's attempts to land its booster rocket back on a solid surface has been one filled with almosts. Several times throughout 2014 and 2015 it tried to land back on its drone barge, with minor defects leading to just-misses every time. It eventually landed a booster back on solid ground in late-2015, but it was only in April this year that it finally made the sea-landing viable.
May need to increase size of rocket storage hangar

— Elon Musk (@elonmusk) May 6, 2016
This is important as higher-velocity landings won't be possible on land and this latest touch-down was a great example of that. The higher speed of the returning booster this time meant that deceleration needed to utilise three engines rather than just one to bring it to a standstill, so the fact that the Space X team pulled it off is a huge achievement.
It's hoped that rocket landings such as this, will allow the boosters to be reused, saving as much as 30 per cent of associated costs on subsequent launches.
The Falcon 9 second stage delivered JCSAT-14 to a Geosynchronous Transfer Orbit pic.twitter.com/GA5x9GMlgW

— SpaceX (@SpaceX) May 6, 2016
But of course as useful as that is, the main point of this launch was to get the JCSAT-14 satellite into orbit. It was successfully transferred into a geo-synchronous orbit by the second stage and will help provide better telecommunications over the Asia-Pacific region.
Discuss on our Facebook page, HERE.
KitGuru Says: This is another great step for Space X. Now we need to see how one of these boosters performs once it's been refurbished and readied for a second launch.