Cooler Master has a new accessory joining its MasterAccessory line-up this week. This time around, Cooler Master is launching its first ever tempered glass ARGB graphics card support bracket, giving heavier and bulkier GPUs the support they require while still looking nice in a system build. 
The MasterAccessory ARGB GPU Support Bracket utilises the strength and aesthetic of tempered glass in completely new ways. The bracket has been tested in-house to ensure it is strong enough to support "the largest, heaviest cards available". The support bracket can be placed at the tail-end of the graphics card, or on the side closest to the case side panel. The base plate of the bracket is also magnetic, so it should remain still and unaffected by system vibrations or transportation.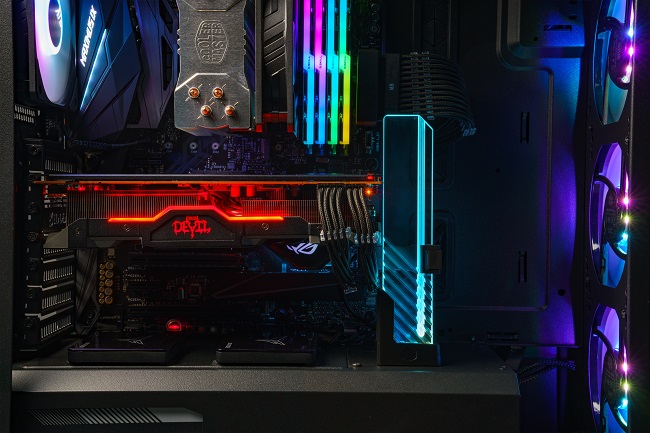 The side of the tempered glass bracket is etched with opaque sections to dissipate light from the base plate. ARGB lighting will shine up and through the tempered glass bracket, which should look good in any PC build. The lighting can also be switched off, at which point, the bracket will be less visible and shouldn't stand out too much.
Here is the full feature list:
Eliminate Graphics Card Sag – As graphics cards become larger and heavier, PCI-e slots suffer from increased stress and weight. The MasterAccessory ARGB GPU Support Bracket eliminates this by supporting the GPU's weight-critical points.
Edge-Lit ARGB Tempered Glass – CNC machining on the tempered glass creates rails for ARGB lighting to travel throughout the bracket. The lighting can also be turned off for a near-invisible aesthetic.
Easy To Install – With its 100% tool-less design and straightforward adjustment of the support, installation is painless. The solid base is reinforced by a strong magnet to secure it in place.
Multiple Orientations – Includes two supports with different orientations for you to either place it at the tail-end of the GPU, or on the side of the GPU closest to the side panel.
Protect Your Components – Relieve the stress on your motherboard's PCI-e slot and protect your card while moving. Thorough strength testing shows that the glass can withstand the heaviest of cards without flinching.
Versatile Support – The universal design of the support arm offers hassle-free adjustment, by sliding and locking in place, to fit a high range of graphics card and PC case combinations.
Cooler Master has implemented a universal design, so user adjustments should be hassle-free. The bracket slides and locks into place, so it can fit in a high range of PC cases. The bracket itself has a height range of 41mm to 171mm.
KitGuru Says: Does GPU sag bother any of you? Would you consider an ARGB support bracket like this one for your build?