The days of gaming keyboards with built-in LCD displays have been over for a while now but CORSAIR might have the next best thing. This week, Corsair announced the iCUE NEXUS Companion Touch Screen, a new display accessory with a fully customisable interface.
The Corsair iCUE Nexus is compatible with keyboards like the K70 RGB MK.2 and the K95 RGB Platinum XT, but it can also be used as a standalone display plugged directly into your PC. Once set up, you can use the Nexus as a handy real-time system monitor, or as a quick way to access programmed macros or other shortcuts.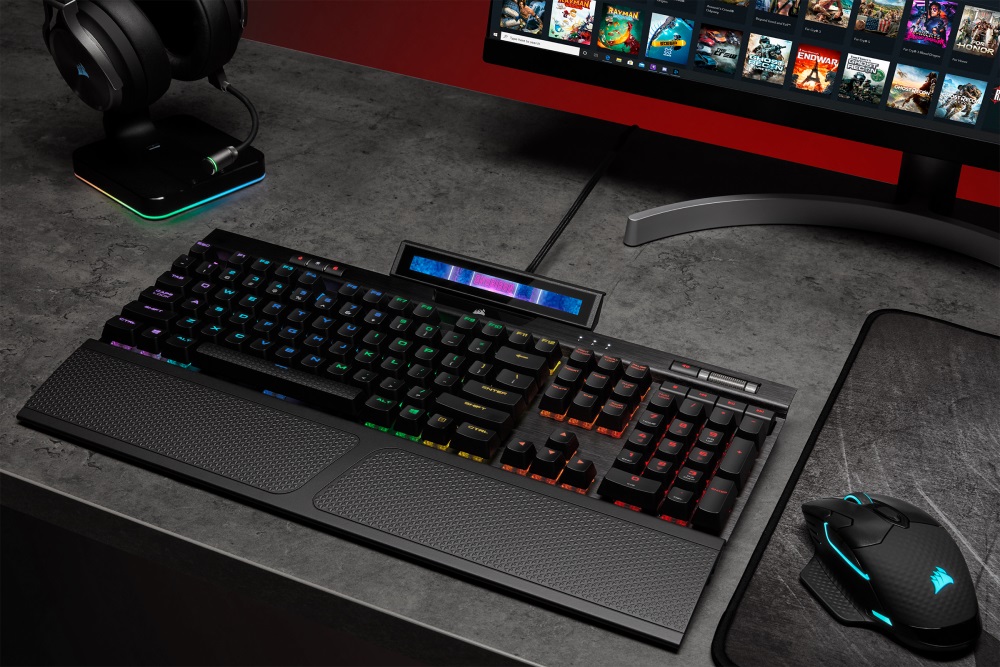 You can program more than 200 custom screens for the iCUE Nexus, each of which can display six virtual buttons using a simple drag and drop system. Through this, you can create custom shortcuts for games or apps, system commands, fan profiles, or access monitoring tools to see CPU/GPU clock speeds or the temperature of your PC.
The more iCUE-compatible devices in your setup, the more the Nexus can do. For instance, if you have a Corsair AIO CPU cooler, mouse and keyboard, the nexus can be used to control custom profiles across all of those devices. Of course, you don't have to do all of this work yourself either, as pre-programmed screens with unique visuals and custom actions can be obtained on the web, just as we've seen with custom lighting profiles for Corsair's keyboards. Some games will have their own profiles too, with one of the first being Tom Clancy's Rainbow Six Siege.
Unfortunately, we don't have UK pricing or availability information for the Corsair iCUE Nexus just yet, but we'll update as soon as new listings start popping up. In the meantime, you can learn more about the device, HERE.
Discuss on our Facebook page, HERE.
KitGuru Says: What do you all think of the Corsair iCUE Nexus so far? Is this something you'd find useful for your own setup?