Over the course of this year, we have seen an uptick in the number of 'Gaming Desks' hitting the market. We kicked off 2019 with the ultra-expensive Thermaltake Battlestation, then in April a more affordable desk arrived from Sharkoon. Now this week, Nitro Concepts is adding a gaming desk to its lineup, with sit/stand height adjustment and a built-in mouse mat surface. 
The Nitro Concepts D16E Electric Height Adjustable Gaming Desk has arrived in the UK. The headlining benefit here is that you can adjust height from 71cm to 121cm, so if you need to stretch your legs a bit but don't really want to walk away from the game, you can just press a button and switch between your preferred sitting or standing desk height. The adjustment is all handled by an electric motor built into the steel desk legs, making the change as easy as possible.
Typically, these electric sit/stand desks are rare to find in the UK and are often a costly investment. The Nitro Concepts D16E isn't cheap, but it is much more affordable than the Thermaltake Battlestation, with Overclockers UK setting the price at £349.99.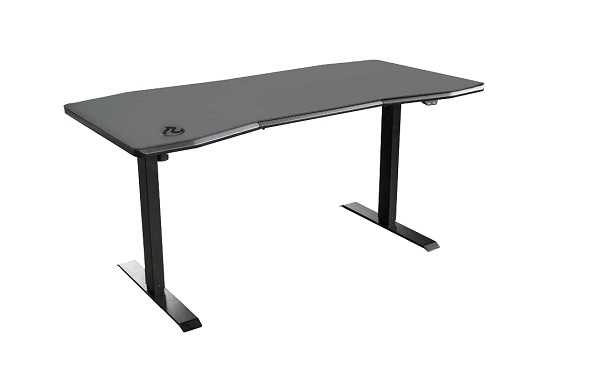 The tabletop surface is made from MDF but the desk also includes a micro-woven fabric surface to turn the whole top into a mouse mat. There are also three cable inlets on the desk, so you can route things appropriately and keep your setup looking clean. There is also an integrated headphones holder for additional tidiness.
The desk measures in at 160cm in length with a width of 80cm, so there is room for multiple monitors and peripherals. You may even be able to fit a couple of monitors and your PC on top of the desk, but that will all depend on the size of your monitors and PC case, so mileage will vary. The desk is also capable of holding up weight up to 70kg.
Alternatively, if you want a cheaper option, the D16M is also available, coming in at £269.99. This version doesn't have the electric motor for automatic height adjustment. However, you can manually adjust the height by 10cm, so it isn't a true sit/stand desk, but it gives you some wiggle room if you have issues finding a traditional desk that sits at your preferred height.
KitGuru Says: I've been after an electric sit/stand desk for a while, particularly as someone that works at the PC and spends many, many hours sitting. It is an investment though. What do you all think of the new desks from Nitro Concepts? Is this the sort of thing you would consider getting?