Over the last year, key reselling sites like G2A have come under increased scrutiny. Despite their popularity, more often than not you don't actually know where your game code is coming from and plenty of people have ended up having games revoked from their libraries. Now League of Legends developer, Riot, is taking a stance against G2A, going as far as to ban the controversial site from sponsoring professional teams.
G2A has advertised with plenty of big Twitch streamers and professional eSports players, including League of Legends teams including Cloud 9, H2K and Counter Logic Gaming. The G2A logo has now been removed from any merchandise that will be available at the League of Legends World Championships this year.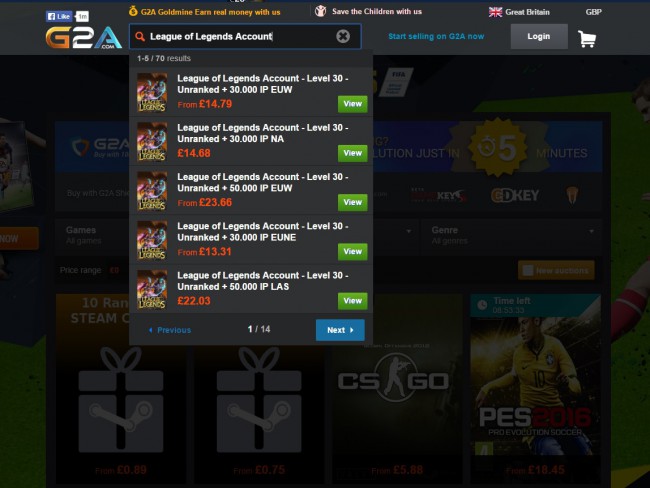 Riot is doing this as the G2A website has a listing that promotes third-party account selling services. G2A isn't known for policing its listings, so the fact that people are trying to sell League of Legends account through the site isn't too surprising. There are actual listings for League accounts up on the site right now, which range in price depending on level.
There are people on G2A that also offer 'elo boosting' services, which is where you pay someone else to level you up in-game. Riot actually took action on the 18th of September, according to its Reddit post, which also says: "This was NOT a decision we made lightly, and came after many weeks of back and fourth conversations with G2A to find a resolution, which we were not able to reach an agreement on. We do not at all enjoy affecting the income of the teams, but the LCS rules include guidelines specifically against this sort of thing. We did however keep teams in the loop during the process in an attempt to avoid any surprises."
KitGuru Says: At first glance, G2A seems like a great site and plenty of big streamers advertise and promote it. Unfortunately, G2A doesn't seem to have much of a moral code behind it, the company knows that there are sellers on its site with dodgy listings and it refuses to do anything about it. They wouldn't even agree to stop people from selling League of Legends accounts at Riot's request, which is why this situation has happened, which could greatly impact the income of several eSports teams.