Over the last couple of years, YouTube's Content ID copyright system has been a bit of a pain for quite a few YouTubers, particularly those that rely on Fair Use. Currently, if a claim is made on a video, monetization immediately stops, which means the creator isn't making any money during the vital first few days of their video going live, when viewership is at its best. However, that will be changing soon.
Following on from a fairly large social media campaign, headed by YouTuber GradeAUnderA, to '#MakeYouTubeGreatAgain', YouTube has come up with a new system that will allow content creators to keep generating revenue while a ContentID claim is being disputed.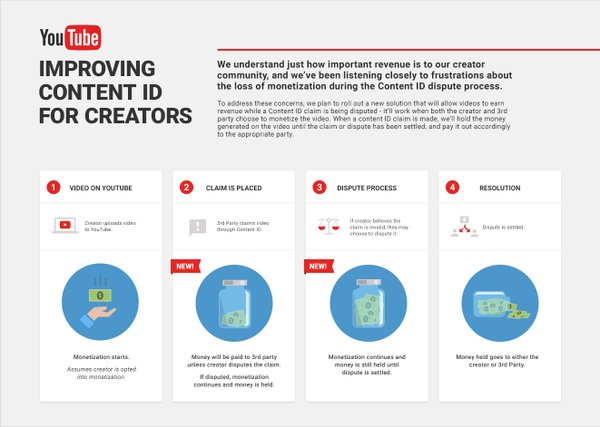 As the image shows, in a few months time, YouTube will be introducing a new four step system. First the video goes life and is monetized, then if a claim is placed, that video is still generating revenue held by YouTube. If the copyright claim is disputed, YouTube will continue to hold on to the money until it is settled and then, the pay out will go to whoever won the dispute.
This should help lessen the effect of copyright trolls, or mistakes made by YouTube's own automated system. In a blog post talking about the announcement, YouTube reaffirmed its commitment to Fair Use: "We strongly believe in fair use and believe that this improvement to Content ID will make a real difference. In addition to our work on the Content ID dispute process, we're also paying close attention to creators' concerns about copyright claims on videos they believe may be fair use. We want to help both the YouTube community and copyright owners alike better understand what fair use looks like online".
KitGuru Says: This is a very important change for YouTube to make, particularly since it makes the copyright dispute process a bit fairer on everyone involved. It will be interesting to see what the community reaction is like to this as well. What do you guys think of this new change to the Content ID system?