Get your wallets out ladies and gentleman, as if you want to get the world's first taste of Apple's CarPlay hardware, you're going to need to pony up a lot of money. Why? Because the first cars to reach customers sporting Apple's fancy infotainment hardware, are the latest model of Ferrari.
Called the Ferrari FF, it comes equipped with Apple's fancy head-unit pre-installed and ready to go. Despite the car's quarter million pound price tag, you'll still need an iPhone to get the most of it, but something tells me a few hundred for the latest smartphone is unlikely to be a big consideration for any prospective purchaser.
"Deliveries of the Ferraris sporting the innovative integrated Apple technology commenced over the last few days and the cars are now arriving at their final destinations and will hit the road all over the world," Ferrari said to Zdnet, confirming that the very first had been officially delivered to a client in Italy. "In Europe, they are bound for Germany, Great Britain, France and Switzerland while others have been dispatched to the United States and Japan."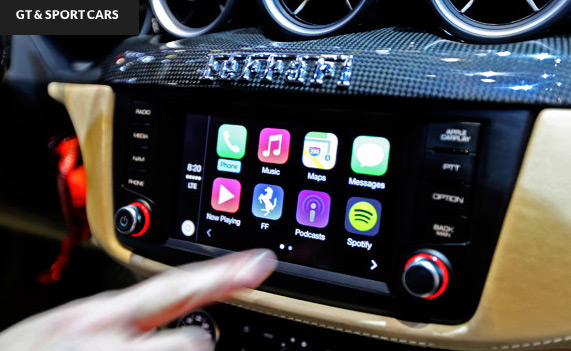 Clearly Apple made quite an impression at the Italian super-car manufacturer's HQ, as the next Ferrari, the California T, is also coming pre-installed with the fancy system. Other car makers expected to install the voice-activated head-unit include Volvo, Hyundai, Jaguar and Honda.
What will be interesting to see, is if these different manufacturers exclusively provide Apple's hardware, or if Android-Auto, Google's similarly smartphone leveraging in-car entertainment centre, will also be offered.
Apple's CarPlay, much like Android Auto, uses your smartphone's connectivity to give it access to apps, navigation and communication tools. Through third party applications, cars could become more connected and interactive than ever before. At least that's the plan.
KitGuru Says: Do you think this means that in a few years time, we'll all be choosing our next-car based off of which Smartphone operating system we're using?
Image Source: Ferrari