In further measures that are designed to protect children from content that is not deemed suitable for them, the music industry has taken a voluntary step – following advice from the government – to add age-gates to music videos aimed at older viewers. That means that moving forward, British artists signed to major labels may have their content on sites like YouTube and Vevo blocked for those not logged in or are not of age.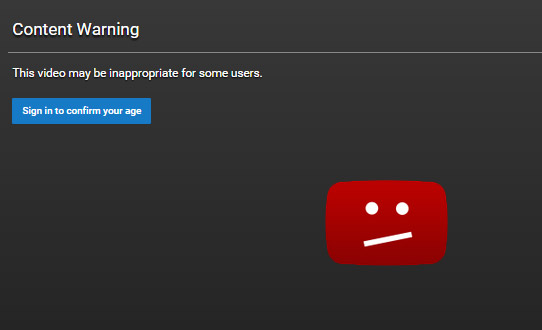 This was a scheme first tested in October last year, but will now become a permanent – if voluntary – mandate for British music labels. The idea is to classify music in the same way as feature films, limiting certain content to minors that is not deemed appropriate. Some videos have since been labelled as 12s, while others 15s.
As the Guardian points out, only one video – Dizzee Rascal's Couple of Stacks – has been given an age rating, due to its depictions of murder.
Or you could just watch it on Vimeo or many other sites, where there are no ratings. 
Moving forward, music labels voluntarily taking part in the scheme will submit all music videos to the British Board of Film Classification, which will then give them an age specific rating.
"Keeping children safe as they experience and enjoy all the benefits the internet has to offer is a key priority for this government's one-nation approach to help families across Britain," said Joanna Shields, minister for internet safety and security. "We will continue to work with industry to develop ways to help parents to better protect children online from inappropriate music videos with explicit adult or violent content."
Moving forward, the government wants to extend this scheme to foreign music video too, but considering that age gates tend to cause a downturn in traffic, it will be interesting to see if any foreign labels agree to take part in the scheme.
Discuss on our Facebook page, HERE.
KitGuru Says: While there are indeed some music videos that are probably not the greatest influences on young children, I'd still prefer parents took more interest in what their children viewed online, rather than relying on some arbitrary process for ratings. It's not like those children won't get around the gates if they want to.