Kim Dotcom has made headlines here and in many other publications countless times over the past few years for his dealings with MegaUpload, MEGA, Baboom and for a whole host of other reasons, not least perhaps the time his house was raided wby heavily armed police over copyright infringement claims. However, Dotcom wants to create a legacy that's more than just a portfolio of popular websites, he wants to make political changes around the world. He's already funded the early stages of the New Zealand Internet Party and now he's suggested that he's happy to fund other local versions of it.
While he didn't explicitly say he'd be willing to hand his fortune over to anyone with an Internet Party sticker, he did announce via Twitter that should Mexico start its own Internet Party, he'd be happy to fund it:
"Mexico, I'm with you! A global call for freedom," he said, linking to a video that explains some of the draconian web measures the current Mexican president is aiming to implement. "Start the #InternetParty in Mexico! I will fund it! #EPNvsInternet," he continued.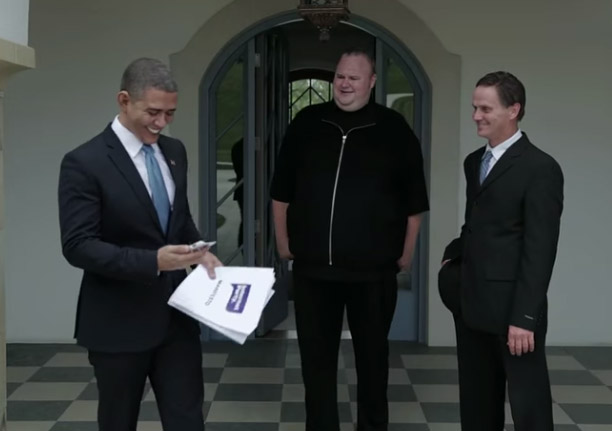 Dotcom has already made some powerful (parodied) friends
This was followed up shortly by another tweet which put out the call for US citizens to help start up an Internet Party in the states:
"I'm looking for strong partners who care about Internet Freedom to launch the #InternetParty in the United States. Pls email [email protected]"
Standing for internet privacy, freedom of speech, freedom of information and a push for internet access, internet based businesses, crowd sourced politics and online and app based voting, Kim Dotcom is offering a lot of changes that a lot of people could get behind. The question is, whether any of the established parties will listen and back these sorts of policies, or whether it'll take years of campaigning to get the Internet Party into a truly competitive position to make the changes itself.
Discuss on our Facebook page, HERE.
KitGuru Says: What do you guys think of the Internet Party? If someone got it started here, would you consider voting for it? I think I might.