Despite being a decade plus old technology, torrents are still one of the most popular ways to share pirated copies of movies and TV shows, but in recent years, thanks to influences from popular streaming services like Netflix, torrents have too entered the streaming game. That's often something handled by the download client itself, allowing you to watch while you download, but in some instances, a piece of software lets you do something a little smarter, like TorrentTV, which lets you stream torrents straight to your TV via AppleTV.
Popcorn Time did something similar through your PC earlier this year, showing what a simple, streaming, extensive library of movies and TV shows could be. The only problem with it was that due to its legal status, the authorities didn't take too kindly to it and the owners quickly pulled the plug. However it's birthed many successors and imitators, one of which is TorrentTV.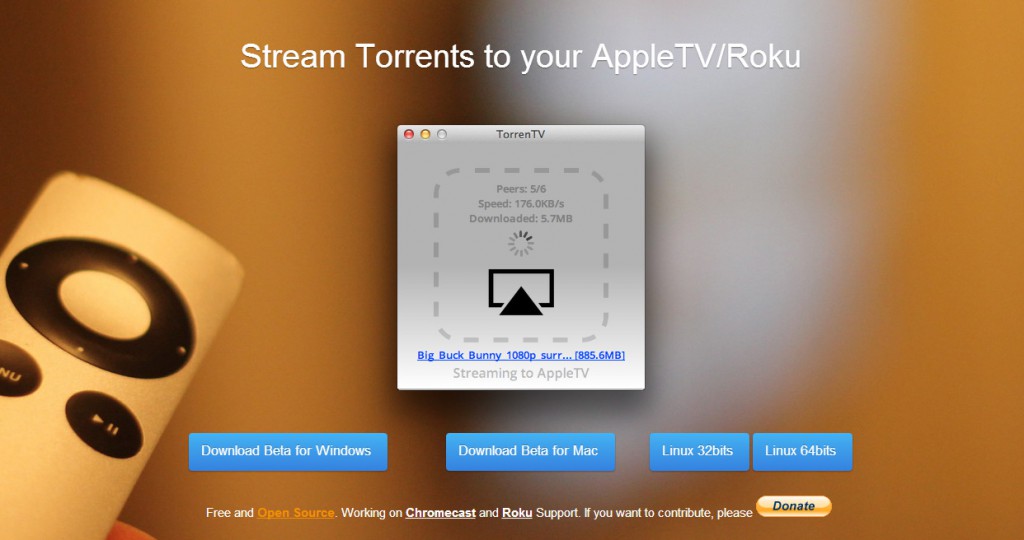 Unlike many conventionally made pieces of software, TorrentTV has Windows, MAC and Linux versions
"Popcorn Time is beautiful in code and in looks but I wanted to do two things that PopcornTime didn't allow me, watch movies directly on my TV and add new torrents which Popcorn Time doesn't have yet," praised the TorrenTV developer Carlos when speaking with TorrentFreak.
The client works like a normal torrent downloader, except when the files are dragged and dropped into TorrentTV, you can then use Airplay to stream it straight to your AppleTV or Roku set top box. Streamcast functionality is set to be introduced in the near future.
The only downside for those that liked the library-like nature of PopCorn time, is that TorrentTV doesn't have that functionality. However this may prove to be a good idea, since it was that clear interface that made the older service such a target for copyright lobbyists.
Discuss on our Facebook page, HERE.
KitGuru Says: The growth of such services like this, shows that there's a market out there for people that want to watch movies as and when they're released, but not at the cinema. The studios should really make multi-plex experiences premium, with better seats, drinks, food etc. but also let people watch films at home how they like. £25 for a brand new movie streamed straight to my lounge. I'd pay that.