A team from the Massachusetts Institute of Technology has won the design contest for Elon Musk's Hyperloop concept, creating a sled-pod design that could one day house passengers as they speed across the world at more than 700 miles per hour. A prototype will now be built on a small test track to test the validity of the design.
The MIT alumni beat out designs from more than 100 other teams, conceptualising a pod that had build in seating and amenities, as well as a propulsion system and all of the sensory equipment that would feed information back to the control centre about how the pod is operating. The design also completely levitates, using powerful magnets to push the pod away from the metal track.
The design is quite aerodynamic, but looks more like a bobsled than a super car, with the overall design measuring in at 2.5 metres long and one metre wide. It's eventual weight is expected to be around 250KG.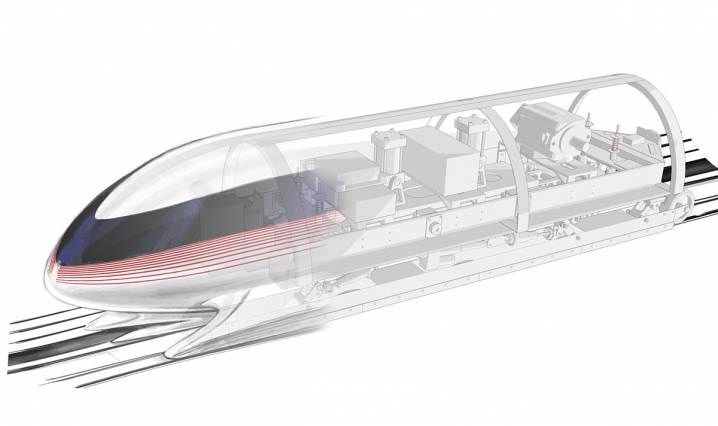 If these can only carry one person at a time though, travel in them could be pretty expensive
The next step will be to test a small scale version made from aluminium and carbon fibre, as well as trialling some very powerful magnets in order to lift the pod away from its flooring. A very strong braking system will also need to be trialled, as without friction from the track or much from the air, stopping inside a hyperloop is not easy.
But it's that lack of air inside the enclosed loop system that is its most beneficial feature. Without touching the track and with a near vacuum around it, the pods would have almost no friction to contend with, which is why they should be capable of hitting such ludicrous speeds, without the usual headaches involved such as heavy fuel usage and turbulence.
SpaceX plans to build a short test track over the next year or so and will test prototypes of the MIT design on it. Eventually it could link up cities separated by hundreds of miles and allow passengers to travel between them in a matter of minutes.
Discuss on our Facebook page, HERE.
KitGuru Says: I'm quite excited for the Hyperloop idea. I've played a lot of Transport Tycoon and know that air-travel is a nice middle ground, but trains will always have the upper hand. The infrastructure is expensive, but running costs and maintenance are all so much cheaper.