NASA has been making a splash at this year's CES, but not by showing off technological developments like crew capsules or rocket engines, but with virtual reality. The American space agency brought along a number of VR and AR headsets and is using them to give the public an experience of what it's like on board various space craft.
Part of showing off these developments in virtual and augmented reality though, isn't just to wow consumers, but to test NASA's ability to utilise the reality controlling technologies for training and real mission uses. Helping give trainee-astronauts a real feel of what it's like in space or using the hardware to give tactile first person control of a rover on the moon or elsewhere could be very useful in the future.
"We're convinced that these technologies that everyone is excited about at CES this year are going to have a transformative impact on the way that we explore space," said operations lead at NASA's Jet Propulsion Lab, Jeff Norris (via Fortune).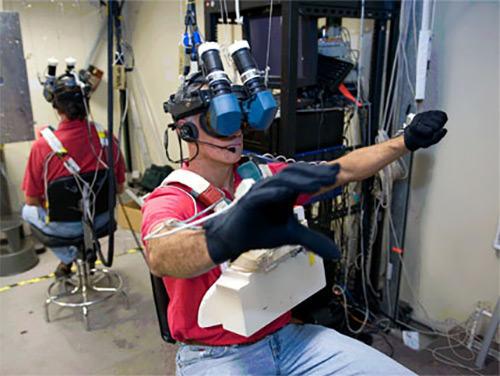 Source: NASA
Giving astronauts or even grounded space farers presence on different worlds could give much greater control over rovers and other remote systems, allowing for more nuanced handling. Although difficult over longer distances because of command delays of minutes or hours, robots like the ISS's Robonaut 2, could be controlled via virtual reality in the future, potentially allowing for much less risky space-walks, with similar control as with a live human astronaut.
Augmented reality like Microsoft's Hololens is also being tested in the inky black beyond. The headset is being used to augment the abilities of astronauts on the ISS, potentially improving their efficiency and know how without disrupting their experience.
Beyond astronauts though, simply showing consumers space and its various bodies is hoped to build interest in further NASA missions. A particular development being built with Fusion and MIT, called the Mars 2030 Experience, is hoped to help build interest for a future manned mission to Mars.
Discuss on our Facebook page, HERE.
KitGuru Says: I'm down for a manned mission to Mars now, but I still want to have a go on the 2030 experience. Pop it up on Oculus Share NASA.