Twitter may be set to bring an end to its most iconic feature: the ability to type no more than 140 characters in a tweet. The number is synonymous with the service, but according to various sources that are said to be "familiar with the company's plans," the prevailing winds within Twitter HQ could see the length of tweets extended to 10,000 characters.
That is of course the current limit for Twitter direct messages, so there is some precedent for changing things up to that limit instead (as per Recode), but it would change the entire social messaging platform forever. With brevity comes a very unique type of network, something that isn't replicated in the likes of Facebook or Google+, so without that, what's separating Twitter from the pack?
According to the unnamed sources, it will be in its presentation. Although 10,000 characters could be allowed, only 140 will display in people's feeds, as they do now. If users wish to use extra they can, but readers will need to click through to read what they say.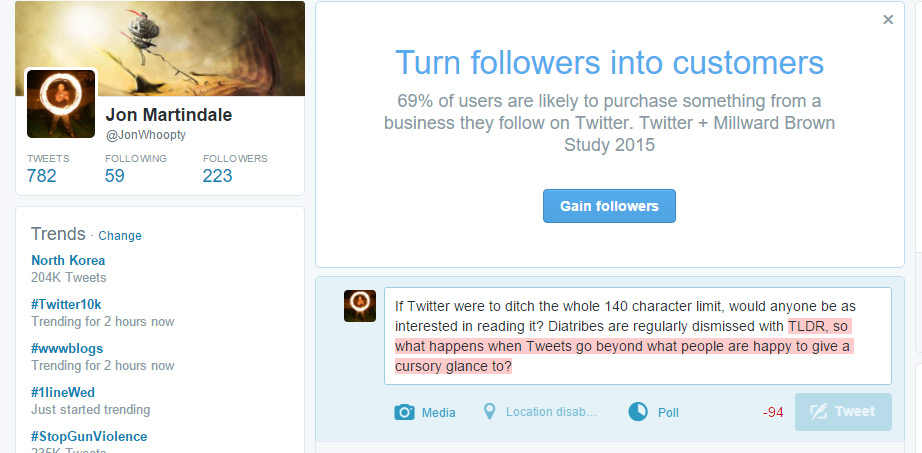 As has been pointed out by others, keeping the design similar will be key to any character limit changes. In the past Twitter has looked to expand tweets automatically with images and longer messages or additional info, and it has almost always seen negative reactions from the community.
As Ars points out, the problem with a system that extends tweets is that it's an attempt to make Twitter palatable to those that don't use it currently. Executives want to grow the service, which is understandable, but there's a reason Twitter isn't Facebook: it's designed for a group of people that like the brevity, the immediacy and the relative distance between them and followers, as compared to "friends."
Killing off a major feature could well see those hardcore users move on to something else, or at least reduce their engagement with it.
Discuss on our Facebook page, HERE.
KitGuru Says: Are you much of a Twitter user? If so, what would you think if the character limit was suddenly expanded?