Polish doctors have become the first in the world to use virtual reality and a custom built application to help unblock a coronary artery. Instead of traditional catheter based percutaneous coronary intervention (PCI) which uses 2D X-Ray images for guidance, surgeons were able to look at a 3D representation of the blockage on a Google Glass headset that could be manipulated, to help them better visualise the artery that needed clearing.
Traditional PCI surgery can be prone to failure due to the difficulty in visualising the blocked arteries in question, but it appeared with more advanced, virtual technology, surgeons can find the practice far easier. In this case of a 49 year old man, surgeons using the Glass device were able to clear the blockages and install drug releasing stents to help maintain the opening.
"This case demonstrates the novel application of wearable devices for display of CTA data sets in the catheterization laboratory that can be used for better planning and guidance of interventional procedures, and provides proof of concept that wearable devices can improve operator comfort and procedure efficiency in interventional cardiology," said Dr. Maksymilian Opolski from the Department of Interventional Cardiology and Angiology at the Institute of Cardiology in Warsaw, via UPI.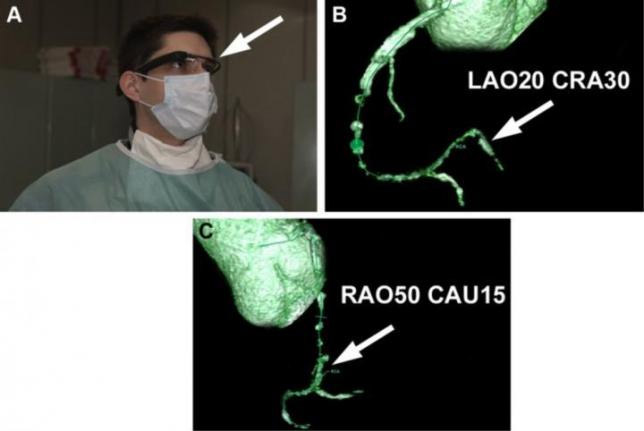 Source: Canadian Journal of Cardiology
One of the more important aspects of the technology was that it understood voice commands we're told, because that allowed the surgeon to manipulate the image he was seeing – including rotating and zooming – without using his hands.
Although you could argue whether this was an application of augmented reality, rather than virtual reality, it could go either way. While AR tends to have a better fit for technology like Google Glass, which overlays the real world with imagery, it doesn't appear from the report that the surgeons had imagery that was in place on the patient, rather it was a free floating "virtual" artery that was seen.
Discuss on our Facebook page, HERE.
KitGuru Says: This just shows that even if virtual reality doesn't catch on for gaming to the extent some expect it to, the application for the technology outside of gaming has huge potential too; if not more so.