UK System builder CHILLBLAST focus on building high value gaming systems and to give you a better picture of their operation we managed to get some time to chat with two of their key staffers – Ben Miles, Sales Director and Louise Blain, Marketing and Communications Manager.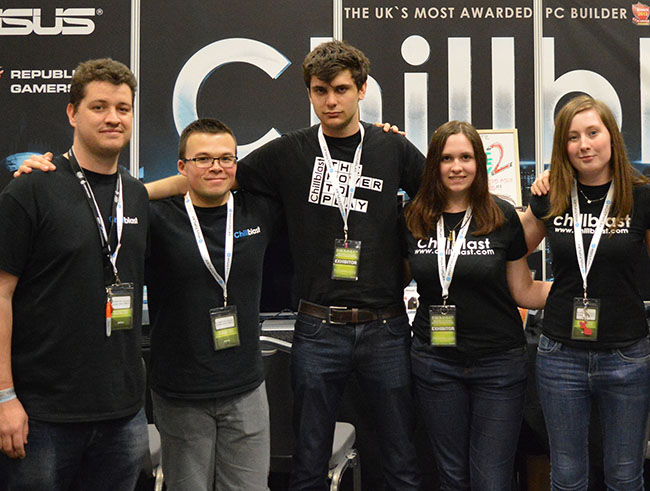 The Chillblast team are very young and energetic. Ben Miles: Sales Director (pictured far left), and Louise Blain: Marketing and Communications Manager (pictured far right).

KG: So guys, can you tell us when was the company was founded?
Ben: Yes, Chillblast started out as an importer of niche overclocking components in 2001 before evolving into a builder of bespoke PCs. We are now the UK's most awarded PC manufacturer with more than a dozen "Best PC Brand" awards and hundreds of individual product recommendations from the industry's toughest reviewers.
KG. What was your driving force/inspiration?
Ben: We are driven by an aspiration to achieve customer service excellence and to deliver the best custom PCs possible that precisely meet our client's needs. Our specialised team has the knowledge to help people make informed decisions about what they are investing in. A new computer is always a big purchase and people need the best support available. This is reflected in our five year warranty package which we believe to be the best in the industry. IT hardware is an extremely exciting industry to be in – there is always something new coming out, or a sensation piece of technology ready to change the world for the better. It is this fast pace and constant innovation that inspires us as the tech-nerds we unashamedly are!
KG. We notice some cool 'low noise' offers from Chillblast – has low power/noise been a significant factor in 2014?
Ben: For anyone who spends a lot of their time at their desk, listening to your PC's fans all day isn't ideal. We work with a number of gaming YouTubers and for them a lack of noise is absolutely key while they're recording and working. Professional photographers, musicians and editors also need powerful machines, but don't necessarily want to hear them working away in the background. We offer plenty of low noise options, whether it's upgrading to a Fractal R5 for a sound-dampened case or investing in a completely silent PC system with no loss of performance. There is no need for any PC to sound like it's about to take off!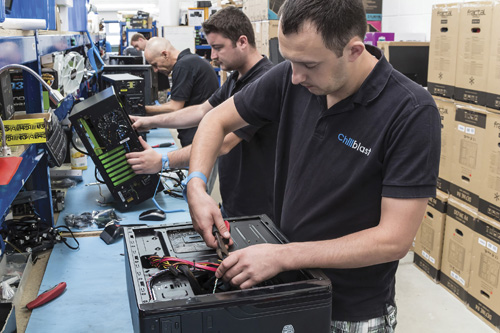 ChillBlast have a dedicated team of skilled system builders working day in on configuring the PC's for their customers.
KG. How important is it for the UK to have home-grown system builders? Specifically, why should someone buy local instead of a system from a global player?
Louise: It's vitally important for the UK to have home-grown system builders. It delivers a level of personalisation just not available from off-the-shelf products. The fact that we build each PC to order, whether it's a spec our client has designed themselves or one of our default configurations, means that each product goes through a stringent build and test process. Every system leaves our factory in Poole in optimal condition and is ready to go straight out of the box. We also have a local support team based in the factory so our staff are always up to date on new builds and are on hand for any queries. We don't employ any overseas call centers so you can be sure there won't be any problems with being misunderstood when you are trying to describe a potential PC issue. We believe communication is key to running a successful business and keep all of our representatives strictly in-house.
KG. One advantage that local companies often claim is that they are able to bring new technologies to market quicker – is that true for Chillblast?
Ben: Our team always keeps up to date with the latest technologies and we're just as excited about them as our customers! We endeavour to make sure that new components – especially new graphics cards and CPUs – are always immediately available on the website as an option as soon as they are released. Another bonus of building our PCs to order is that we never have to restrict customisation options in order to get rid of old stock. If new technologies are available you can be sure that they will be added to our configuration options. We also spec up brand new systems to make the most of new tech. Having a relatively small team gives the company unrivaled agility, so we can get this done faster than anyone else in the industry.

KG. The name Chillblast sounds a lot like 'highly focused, extreme cooling' – is that fair? What solutions have you pioneered in the UK/Which are most popular?
Ben: It may sound like we are just focused on cooling, and obviously keeping things chilly is fundamental to all high performance computers, but we actually have a much wider aim – to deliver the perfect system not just for intensive users such as gamers and designers, but to home-office and business users too. While we historically specialise in gaming rigs from £399 all the way to £6999 – check out our Fusion Prometheus – we have systems to meet every budget and requirement, whether that's high frequency trading servers for a financial organization or bespoke tamper-proof solutions for schools. You name it, Chillblast can build it.
We are exceptionally proud of our awards and this year our Fusion Quasar was awarded PC Pro's 'Desktop of the year'. Our focus on balancing power and budget means that excellent PC gaming doesn't have to cost the earth. We also make sure that we're evolving with the PC market. In their striking colourful cases, products like our Fusion Nebula and Fusion Probe are really paving the way for the future of PC gaming as we leave "black boxes" behind and move towards more aesthetically appealing yet ultra-powerful machines with the newest tech. Our range of gaming laptops is also becoming as important as our desktop offerings as people realise how well their favourite titles can be run on something a little more portable than a full tower.
KG. With the recession largely over, and the gaming end of the market doing OK, what goals do you have for Chillblast in 2015?
Louise: Chillblast will continue to evolve as the gaming market does. We are proud to be working with the gaming community and will be attending more events than previous years. It's always incredible to speak to our customers face to face at events such as Multiplay's Insomnia and see how people are using our PCs. We'll constantly be staying on top of new trends and ensuring that we're delivering the best possible service as people continue to make the jump from consoles to PC gaming.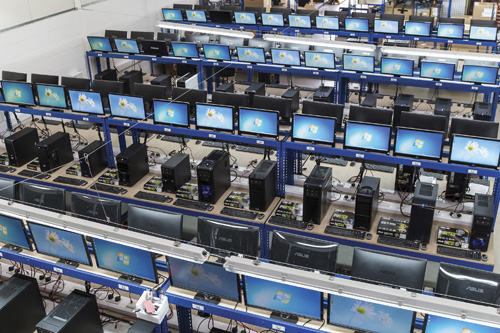 Holy Hardware Batman! – Above, the Chillblast Test Bays.
Business queries aside, we posed a quick fire series of questions to Ben and Louise to get an insight into the people behind Chillblast.
KG: What did you do before Chillblast?
Louise: I was a staff writer at Official PlayStation Magazine!
Ben: I worked as a geneticist – obviously not a very motivated one or I wouldn't have ended up in the gaming PC industry!
KG: What was the first computer you ever owned?
Louise: Ha. An Apple Classic I'm afraid. Boo… hiss.
Ben: A Commodore 64, complete with cassette tape drive (good memories, Ed!).
KG. If you could drive along a Pacific highway, on 'the perfect day', which car would you be driving, what song would be on the radio and who would be your passenger(s) ?
Louise: I'd be driving my very own Batmobile, listening to Zola Jesus – Hunger and I think I'd like to be driving by myself for a bit. I'll pick up some friends later. They can wait. *dons aviators*
Ben: I'd be driving a DeLorean DMC complete with Mr Fusion reactor. The song would be 'Ramble On' by Led Zeppelin and my passenger would be Biff Tannen – some people say you can't tell us apart.
KG. If you need to impress your friends, what do YOU cook at home?
Louise: Steak, due to my inability to cook even basic meals. Steak actually requires very little effort. Add in pre bought M&S mashed potatoes and peppercorn sauce and they never know…
Ben: Sicilian pancetta and tomato linguini, cooked with a with generous glug of white wine, balsamic vinegar, garlic and olive oil. Extremely simple but it tastes spectacular!
KG. Which food do you love, but you can't make it right – so you always need to eat it at a restaurant?
Louise: Oh you mean except all of them? Let's go with Japanese food. I'm a sucker for good teriyaki.
Ben: Steak. Looks like Louise is cooking!
KG. If you could invent one thing, what would it be?
Louise. A high speed USB socket that fits just under the skin on my right arm that runs on kinetic energy. I never want to hunt for a charging point ever again.
Ben: Cold Fusion – an unlimited power source is fundamental to being able to invest much more exciting stuff like teleporters, warp drives, holodecks and replicators. Spot the Star Trek nerd!
Discuss on our Facebook page, over HERE.
Kitguru says: Louise and Ben are Star Trek and Batman fans. You really can't get much better than that Thanks to Ben and Louise for taking the time this week to chat with us and to show us the 'inside workings' of a top UK system builder.