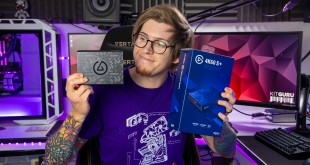 If you're a content creator and/or a live streamer, you'll want to check out Elgato's brand-new external capture card. The Elgato 4K60 S+ can capture and pass-through 4K 60FPS footage in HDR10 and you don't even need a PC at all to record! An onboard, dedicated, HEVC encoder lets you record to a compatible SD card. How does it stack up? We find out.
Watch via our Vimeo Channel (Below) or over on YouTube at 2160p HERE
Specifications:
Input: HDMI (unencrypted)
Output: HDMI (lag-free passthrough)
Supported resolutions: 480p60, 576p50, 720p30/60, 1080p30/60, 2160p30/60
HDR 10-bit: pass-through and recording
Onboard HEVC encoder
Encoding: HEVC/H.265 HDR, AVC/H.264
Dimensions: 32 x 111 x 142 mm
Weight: 1025g
Warranty: 2 Years
Metal chassis
2x USB-C – USB-A 3.0 cables included
1x Multi-region power supply included
1x HDMI 2.0 cable included
1x Quick start guide included
If you're a non-travelling streamer or content creator that is starting out, wants to record/stream both your PC and your consoles then you need to be aware of the 250ms delay, high specs required to edit certain recorded footage, the lack of high refresh rate support and the price point. There may be other alternative capture cards from Elgato you will want to look into first, for example the internal Elgato 4K60 Pro Mk2 that we reviewed last year, before making a decision.
If you're an advanced streamer/content creator that already has a breadth of knowledge and other capture cards in your arsenal for PC recording/streaming then the Elgato 4K60 S+ can be an excellent way of supplementing your existing setup and increase your workflow. With the onboard HEVC encoder, MKV support, 4K60 HDR and SD recording capabilities this would be an excellent capture card for dedicated console recording.
Lastly, if you're often or purely on the road whilst streaming and creating content then the 4K60 S+ will be your best companion. Yes, there is the 250ms latency but this can be synced to your other devices with delays in OBS. Yes, you will need a very high end laptop to edit HEVC, MKV 4K60 HDR files but if you're serious about your work and/or play then the 4K60 S+ definitely has got your back with some game changing features only currently found within this unit.

You can pre-order the Elgato 4K60 S+ for £389.99 from Overclockers UK HERE!
Discuss on our Facebook page HERE.
Pros:
True pass-through for zero latency, zero "lag" for the gamer.
HDR10 recording and pass-through.
4K 60FPS HDR10 recording directly to SD cards.
MKV recording supported.
No PC required.
Dedicated HEVC chip for recording for smaller file sizes.
Great aesthetics and design, looks great in any setup.
Line-in recording option.
Configurable recording settings via text file for SD recording.
4K Capture Utility works excellently.
Great for portability/laptop users.
Cons:
250ms latency when live streaming.
Minimum PC requirements are quite high if you want to capture footage directly to your PC.
HEVC & MKV files are difficult to edit and require a powerful system.
No high refresh rate support of any kind for both recording and pass-through.
Only records to the specifications of your TV or monitor (to record 4K60 HDR you need a 4K60 HDR screen).
1440p not supported in pass-through or recording.
Price is very high compared to Elgato's internal 4K60Pro Mk2 capture card, which is £160 cheaper.
KitGuru says: As many pros as there are here, there are also equally as many cons. If you're considering the 4K60 S+ then you really need to prioritise what you are wanting to achieve with it. For some this will be ideal but for others they may find Elgato's 4K60Pro Mk2 a better choice.
Be sure to check out our sponsors store EKWB here