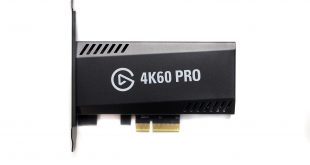 Elgato, now in partnership with Corsair, is known for its high-quality content creation and streaming products, but surely its current line-up covers all the bases already? Well, you're right to think that but the company has taken its best capture card and given it one hell of a makeover! The original 4K60 Pro, released in 2017, was already a monster of a card and Elgato has just given it a full hardware redesign.
Featuring the ability to capture and passthrough HDR10, 1440p at 144Hz, 1080p at 240Hz and, the biggest improvement – the ability to capture footage with the card via multiple software options at the same time – this card has some serious specs. Just how good is it? Let's find out.
Watch via our Vimeo channel (below) or over on YouTube at 2160p HERE
Specifications:
PCIe x4, x8, x16 slot compatible

Low profile

5.6cm W x 12.1cm L x 1.9cm D

181g

240Hz passthrough

Instant gameview

2160p 60 FPS capture

HDR10 capture

Flashback recording

Multi-device support

Muli-app support

Max bitrate up to 140Mbps

Requires Ryzen 7/i7 6th Gen or better

Requires GTX 10XX series or better

Requires Windows 10

You can find the Elgato 4K60 Pro Mk.2 up for pre-order for £229.99 from Overclockers UK HERE.
Pros
Plug and play.

HDR10 capture.

Low profile size.

£130 cheaper than its predecessor.

Multiple program usage.
Cons
No backplate or logo LED.

Only comes with 1x HDMI 2.0 cable.

4K Capture software is very basic.
KitGuru says: Elgato has been a dominant force in the streaming/content creation world and they have just reaffirmed their status. The 4K60 Pro Mk.2 packs some well needed new features into a tiny body with much better thermals. If you're a streamer or creator that games/films above 1080p, this is an excellent capture card.
Be sure to check out our sponsors store EKWB here