There is a rumour that Taiwan Semiconductor Manufacturing Co. experiences yield issues with its 20nm process technology, which has forced companies like AMD, Nvidia, Qualcomm and others to delay the ramp up of their 20nm designs. It is unknown whether the rumours are true, but KnC Miner, a developer of digital currency mining solutions, this week announced the world's first commercial chip made using 20nm fabrication process.
The industry's first commercial design produced using 20nm manufacturing technology is called the Neptune and it is an application-specific integrated circuit (ASIC) designed for mining of the Bitcoin currency. Other information about the chip is rather vague. KnC claims that the Neptune chip is a 1440-core 55mm*55mm package tailor-made for the Bitcoin market. The package in KnC's definition is a multi-chip-module (MCM), which are often used in the industry. While an experimental MCM that KnC revealed in 2013 featured four Altera FPGAs, the company now claims that "each Neptune consists of 5 chips and comes in a new enclosure and packaging". Each Neptune MCM comes on a special card with one 6-pin power connector.
An experimental KnC Jupiter board design powered by an Altera FPGA that runs RTL code of a true chip. We are not sure how did they fit five ASICs under the heat-spreader in case of the commercial version of the Neptune.
The Neptune mining device, which is based on four Neptune MCM cards, churns out more than 3TH/s [terahash per second] while consuming 2.1KW from the power outlet, which translates to 0.7W per GH/s or less, according to KnC Miner. Each Neptune requires three 850W or two 1200W power supply units. According to the developer, the 20nm process technology allowed the company to cut power consumption of the Neptune by around 30 per cent.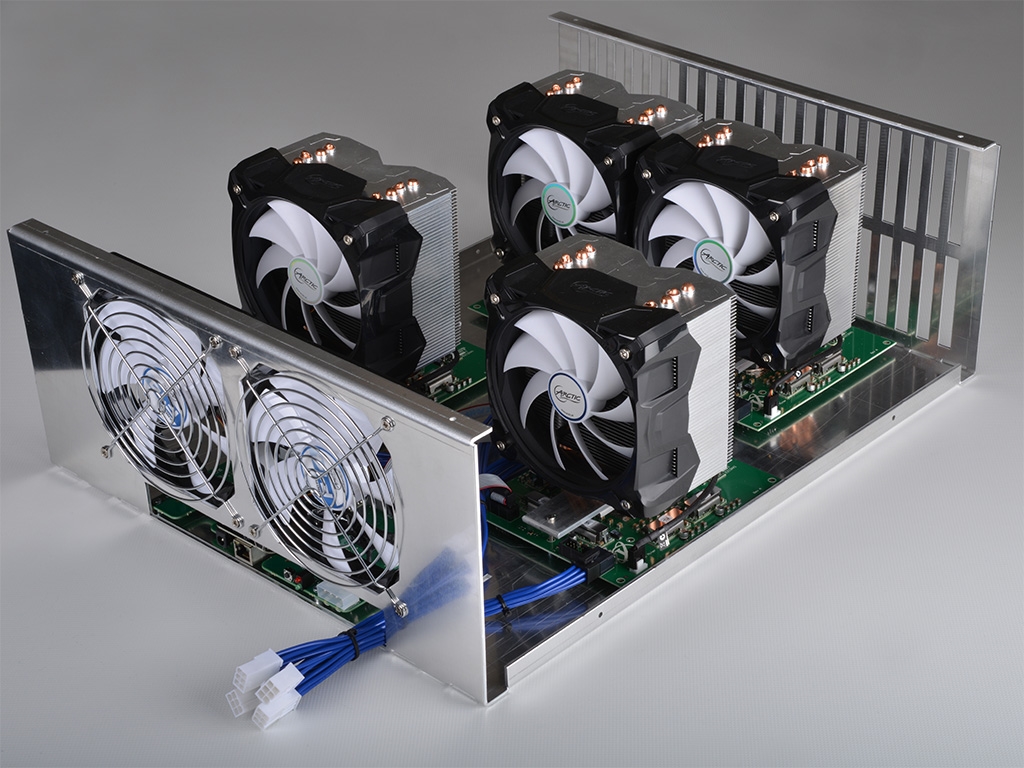 A pre-production Neptune mining device featuring four MCM cards.
Keeping in mind that ASICs for Bitcoin mining should be relatively easy to produce, it is not really surprising that KnC Miner managed to leave companies like AMD, Nvidia and Qualcomm behind. Sophisticated graphics processors and system-on-chips are much more complex than KnC Miner's chips which are tailored to perform a very limited amount of operations.
A re-worked KnC Neptune/Jupiter board.
Each Neptune mining device costs $5995 (£3518, €4405). The company also offers mini Neptune mining device featuring two MCMs for $3495 (£2051, €2568).
The production Neptune mining devices
Discuss on our Facebook page, HERE.
KitGuru Says: It is remarkable how the Bitcoin mining craze creates opportunities for small companies to develop chips made using the 20nm process technology, one of the world's most advanced nodes today.