Advanced Micro Devices on Tuesday officially began sales of its highly-anticipated A-series accelerated processing units (APUs) code-named "Kaveri". The new chip features a pack of AMD's latest technologies and are expected to show high performance in applications that can take maximum advantage of its heterogeneous system architecture (HSA).
Starting today, AMD and its partners officially sell A10-7850K and A10-7700K APUs based on the code-named "Kaveri" design. Both chips are very similar: they feature two dual-core Steamroller modules (four cores in total), 4MB level two cache (1MB cache per x86 core), AMD Radeon R7 graphics engine with eight GCN compute units (512/384 stream processors in total for A10-7850K and A10-7700K, respectively) operating at 720MHz, dual-channel DDR3 memory controller with hUMA [heterogeneous unified memory architecture] technology, 95W thermal design power and so on.
The main difference between the two chips is their clock-speed for x86 cores: 3.70GHz/4.0GHz (default/maximum Turbo Core clock-rate) for A10-7850K and 3.50GHz/3.80GHz (default/maximum Turbo Core clock-rate) for 7700K. Both chips feature FM2+ form-factor and are drop-in compatible with the latest mainboards featuring such socket from leading manufacturers. As usually, "K" versions of AMD microprocessors feature unlocked multipliers and are better suited for overclocking.
Thanks to the fact that AMD's "Kaveri" features HSA technology, heterogeneous unified memory architecture (hUMA) and heterogeneous queuing (hQ), software applications can use both x86 and graphics compute cores at the same time and very efficiently. According to AMD, its Kaveri APUs can run up to 12 separate processes simultaneously thanks to the fact that it has twelve compute cores. Besides, the new APUs supports AMD's latest technologies, such as Mantle, TrueAudio and so on that will improve performance and quality in select video games. Finally, AMD "Kaveri" comes with improved second-generation VCE and fourth-generation UVD [unified video decoder] units that improve quality of video playback and add encoding to new formats (to support 60GHz wireless displays, for example).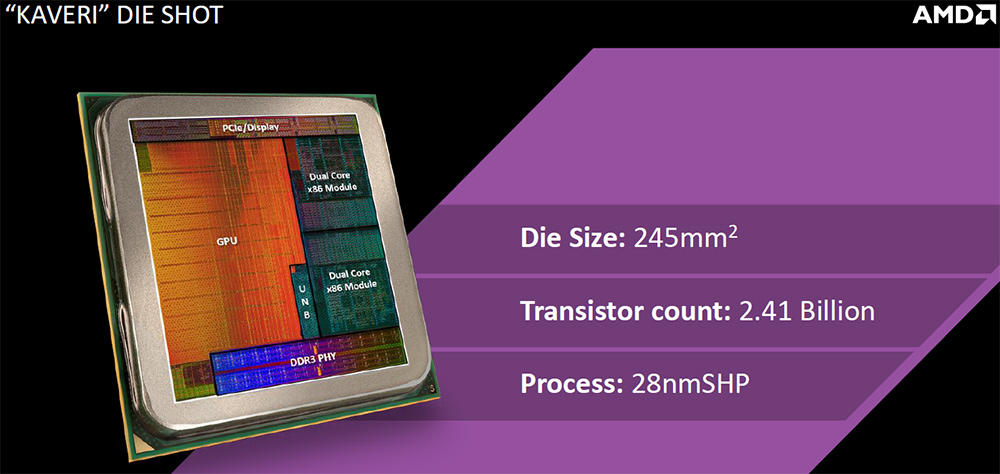 The latest APU from Advanced Micro Devices are made using 28nm SHP [super high performance] process technology at GlobalFoundries, which AMD calls "APU optimized". The manufacturing process, which is tailored for high transistor density, let AMD integrate 2.41 billion of transistors into a 245mm2 Kaveri die, which is 85% higher transistor budget than that of previous-generation Trinity/Richland APUs (246mm2, 1.303 billion transistors, 32nm SOI). The undesirable effect of increased transistor density is a drop of Steamroller cores' frequency, which has a negative impact on performance in traditional (non HSA-optimised) applications. The Sunnyvale, California-based chip designer hopes that lower clock-rates of the code-named "Kaveri" compared to predecessors will be offset by up to 20% higher IPC [instructions per clock] performance of the Steamroller micro-architecture (vs. previous-generation x86 technology from the company).
According to AMD's internal performance tests, the new AMD A10-7850K "Kaveri" accelerated processing unit is 24% – 87% faster compared to Intel Core i5-4670K in synthetic applications like 3DMark or PCMark. This, however, does not mean that the new chip will be faster in real-world tasks.
AMD official price of the A10-7850K is $173 (£105), whereas the official price of A10-7700K is $152 (£92.5). Large system makers usually get their parts with significant discounts. PCs featuring the new chips are available now.
Other versions of AMD "Kaveri" APU, including those for laptops, ultra-thin notebooks, low-power desktops and even servers will be available later this year.
KitGuru Says: Potentially, AMD's new accelerated processing units with HSA technology can revolutionize computing in a big way. One of the problems is that Kaveri may not show decent speed in popular programs today (especially those that rely on single-thread performance), something that will negatively affect market performance of the new chip right now.