Advanced Micro Devices on Monday finally revealed additional details about its highly-anticipated code-named "Kaveri" accelerated processing unit (APU), the company's first chip to support heterogeneous system architecture (HSA) that greatly simplifies general-purpose processing using graphics processing units. The new APUs also support new "Streamroller" x86 cores and other latest technologies from AMD.
The Kaveri is AMD's new-generation A-series APU that combines four x86 general-purpose "Steamroller" cores with eight graphics compute units (CUs) based on the GCN architecture on the same die. Thanks to the fact that Kaveri features HSA technology, heterogeneous unified memory architecture (hUMA) and heterogeneous queuing (hQ), software applications can use both x86 and graphics compute cores at the same time and very efficiently. According to AMD, its Kaveri APUs can run up to 12 separate processes simultaneously thanks to the fact that it has twelve compute cores.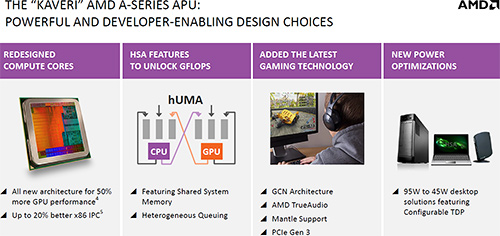 But AMD's latest APU is not only about heterogeneous computing, even though this will be one of the key selling points for the chip. The novelty is based on all-new x86 micro-architecture called Steamroller that can increase performance per clock by 20% compared to previous-gen Piledriver cores. Besides, the new APU features new graphics processing unit based on GCN architecture that supports the latest and greatest video game technologies, including Mantle, TrueAudio and so on. Finally, the new chips were optimized to reduce their power consumption.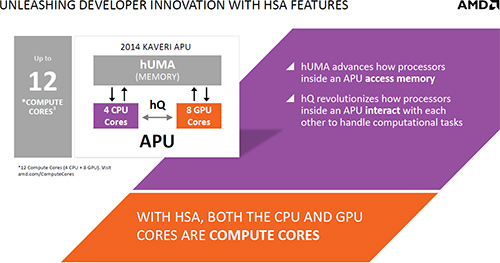 According to AMD's internal performance tests, the new AMD A10-7850K "Kaveri" accelerated processing unit is 24% – 87% faster compared to Intel Core i5-4670K in synthetic applications. This, however, does not mean that the new chip will be faster in real-world tasks.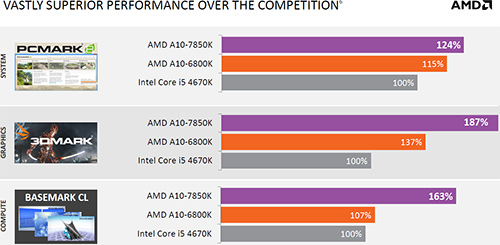 The first AMD A-series "Kaveri" APUs – the A10-7850K (quad-core, 3.70GHz default CPU frequency, 512 GCN cores running at 720MHz, dual-channel DDR3 memory controller, 95W thermal design power, etc.) and the A10-7700K with AMD Radeon R7-series graphics processors – will be available inside desktops by leading makers starting the 14th of January, 2014. The microprocessors will be compatible with the latest mainboards with FM2+ sockets. Later this year AMD will offer other versions of Kaveri aimed at lower-cost desktops as well as notebooks.
KitGuru Says: It is nice to see that AMD's Kaveri is finally ready and is getting closer to market. Unfortunately, not all technical specifications are known and no actual performance results have been published, which means that we still do not know whether the Kaveri is a good microprocessor compared to competing solutions.