Back in February, KitGuru tested a prototype of the Calyos NSG S0, a complete-passive chassis designed to cool components without the need of fans. After a successful Kickstarter campaign, the finalised case was supposed to ship in August, however the team is now looking at a December release due to improvements made to the processor TDP.
The release of AMD's high-end Threadripper CPU saw Calyos changing things up on the NSG S0 to be compatible with the new socket. This resulted in the team redesigning the cooler block, pictured below, to accommodate the oversized Ryzen processor, which in turn spelled great news for all CPUs paired with the chassis.
Originally, the TDP of the prototype supported passive cooling for up to 150W for the processor and 250W for the graphics card. While the GPU remains the same, this new cooler block on the finalised design can now dissipate up to 180W for the processor while in standard room temperature.
Compatibility should have most modern CPUs covered, supporting Intel's 2011, 1155, 1150, 1151 and 2066 brackets, while it can house AMD processors with the AM3, AM3+, AM4 and TR4 sockets. As for graphics cards, users will have to tell Calyos beforehand which GPU they plan to mount to receive the best fixture. MSI is the official partner, however most, if not all brands are covered with compatibility ranging from Nvidia's 660 Ti to the 1080 Ti, and AMD's R9 series to its latest Vega 64.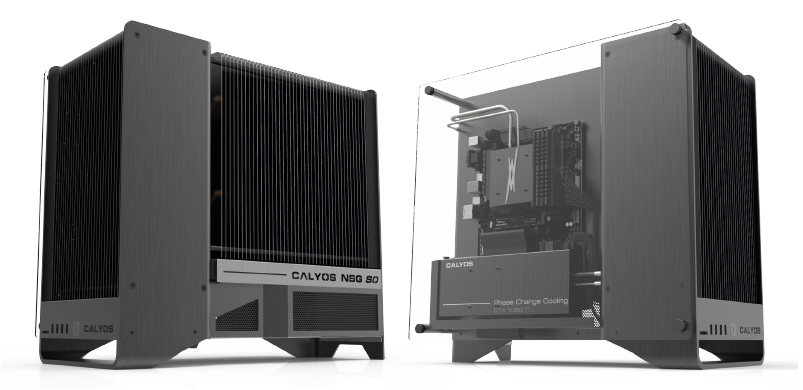 Calyos has now given the ability to overclock with the NSG S0, giving users the option to add fans in dedicated slots. Alongside this, owners of the chassis can now assemble their components akin to an ordinary closed case, with the NSG S0 making cable management and access easy via the modular front panel.
If the open design doesn't tickle your fancy, the company are working on a more closed design that should be available soon, as well as developing an XL version of the NSG S0 and a variant capable of SLI.
KitGuru Says: This is interesting technology to say the least. Whisper quiet operation has always been an interest of mine so anything that removes fans has my attention. I am wondering how far the case can be pushed in a gaming or workstation rig before it becomes too much. What do you think of the NSG S0?