Back in February, Leo and I went to Brussels to visit Calyos and take a look at their completely-passive NSG S0 chassis prototype. Today, Calyos has announced that the finished product will be launching on Kickstarter tomorrow, March 29.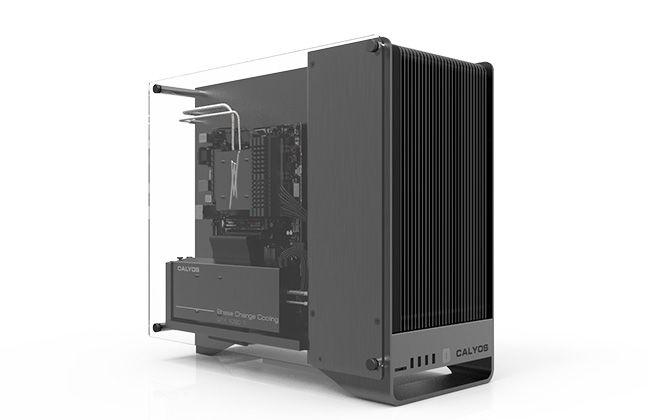 According to our information, the early-bird price will be just 479 Euros – I say 'just' 479 Euros, as we were actually told the final price could be up to 600 Euros, so Calyos have done a good job bringing the price down a bit. That 479 Euros will buy you the chassis and the phase-change cooling solution on its own, though Calyos have said that should the Kickstarter go well, they may be offering pre-built systems which use the NSG S0, configurable up to an i7-7700K and GTX 1080 Ti.
Aside from the cheaper-than-anticipated price, the NSG S0 has also had a complete makeover, thanks to French modders Watermod. The prototype we got a look at in February was perhaps not the best-looking piece of tech on the market, and Calyos were very happy to admit that at the time. They did tell us they would be working hard to revamp the aesthetic side of things, and I certainly think the finished product looks great.
Other than that, it is a very exciting time for the PC industry. Never before have we seen a 100% silent chassis capable of housing the latest-and-greatest hardware, and I am sure many of you will be checking your bank accounts, eager to get hands-on with the NSG S0.
KitGuru says: It was great to visit Calyos back in February and having seen the finished product, the NSG S0 looks really good. Will any of you guys be backing the campaign? Stay tuned for the Kickstarter launch tomorrow.