If you managed to read our review of the Game Max Falcon RGB case (it's over HERE if you didn't make it first-time around)  then you will know it is a great case for £39.99. However, we also got to take a quick look at the Game Max Volcano chassis – also priced at £39.99.
Both cases share the same general aesthetic, but the Volcano makes a few adjustments. First up is the all-mesh front panel when the Falcon is mostly solid. There's still space for 2x 5.25″ drives though, so if you are still rocking a DVD drive or 5.25″ fan controller Game Max have you covered.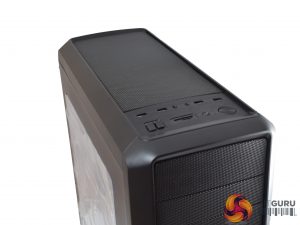 The top panel also features a large mesh section, while the front I/O has been updated to include an SD-card reader as well – something which is great for photographers or anyone frequently needed to access data stored on an SD card.
Inside, it is great to see the same cable management options as can be found with the Falcon – plenty of cut-outs to route your cables is one key area that we praised in the Falcon review. A PSU shroud is also a top-quality feature at this price-point as it keeps everything looking clean and tidy.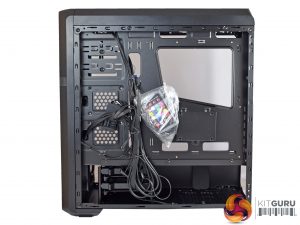 Behind the motherboard tray we see a couple of extra SSD mounts, while there are still the two 3.5″ drive caddies positioned under the power supply shroud.
Plenty of cable tie-down points should help keep cables nice and tidy round the back, too, while there is a good inch of physical space here which makes getting the side panel back on an easy task.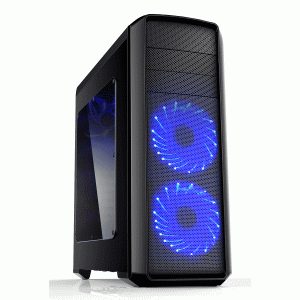 The Volcano also has the same 120mm RGB fans as the Falcon, which means it is very easy to change the colour and pick between a number of effects, too.
All-in-all, the Volcano looks like it keeps all the great features which made the Falcon a success. It looks like it would be a great option if you want a budget case without sacrificing any features.
It is currently priced at £39.99 from FiercePC HERE.
KitGuru says: The Game Max Falcon is a great case and is very easy to build in. The Volcano looks like it has all the same features which made the Falcon so good, while making a few aesthetic changes to help set it apart.