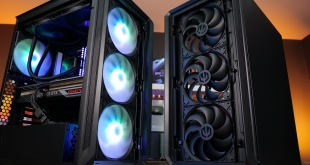 Just a couple of months ago we did a sponsored build featuring a brand new case from Endorfy, The ARX 700 Air was Endorfy's first case to be designed and built entirely in-house. It came with mesh panels, five 140mm fans and a budget price tag. Well, today I'm looking at the new Endorfy ARX 500 ARGB, which has many of the same features as the ARX 700 Air, it comes in two different versions with or without RGB and is more compact and cheaper. But is it as good? Let's find out.
Timestamps:
00:00 Start
00:55 Features
03:01 James thoughts / closer look / support
07:27 Side panel – cable management
08:40 PSU support / storage space
09:29 5 port PWN fan hub
09:55 Floor of case
10:53 Build hardware
12:19 Build timelapse
17:05 James thoughts on the build experience
19:16 Thermal/noise performance with high end system
20:34 Closing Thoughts
Endorfy impressed us with the ARX 700 when that launched a couple of months ago, it offered great value, excellent airflow and extensive hardware and cooling support. The ARX 500 ARGB is the baby brother with slightly smaller dimensions but it retains many of the features that made the ARX 700 a great buy, such as ultrafine mesh front and top panels for high airflow, radiator support, space for large graphics cards and lots of PWM fans included.
For just over 100 Euros the ARX 500 seems like exceptional value for money, it supports ATX motherboards, graphics card up to 350mm long, front and top mounted radiators, it comes with four ARGB fans that are PWM controlled as well as a five port PWM fan hub and a five port 3-pin 5v ARGB controller. So it's off to a good start right away the only initial gripe I have with the ARX 500 is that it isn't available in white.
The ARX 500 series is also available in a slightly cheaper ARX 500 Air model, which ditches the ARGB in favour of regular black 140mm fans. There's no ARGB controller included which seems sensible in a non-RGB case but the PWM fan hub is still there and the fan count is up from 4 in the ARGB version to 5 in the Air. It has the identical layout and mesh panels as the ARGB version so for around 90 Euros it sounds like a steal.
Features
Spacious Interior that allows for up to seven fans to be installed – 5 x 140mm Endorfy Strutus 140 PWM fans come pre-installed in the ARX 500 Air and 4 x 140mm ARGB fans in the RGB case, fans in the ARX 500 Air are regular Black fans.
Both cases feature a built-in 5 port PWM fan controller, a 5 port 3-pin 5v ARGB Hub is also included with the ARGB model but not in the ARX 500 Air.
Front and top panels are heavily ventilated with perforated steel ultrafine mesh that also acts as a single-layer dust filter, so they are less airflow restrictive compared with cases that have a secondary dust filter. Both panels are easily removable for cleaning.
A tempered glass panel is fitted to the left-hand side of the case for an unobstructed view inside the chassis.
ARX 500 is a compact ATX case measuring 486 x 228 x 429mm but still allows for the installation of 360mm and 280mm radiators, as well as graphics cards up to 350mm long and CPU coolers up to 179mm tall.
Front I/O Connectivity includes a single USB Type-C port, two USB Type-A ports, individual 3.5mm audio jacks for headphones and microphone, a power button and a reset button that can be repurposed as an ARGB control button.
ARX 500 ARGB Specifications:
Dimensions: 486×228×429mm
Motherboard Form Factor: ATX, Micro ATX, Mini-ITX
Graphics card clearance: 350mm
PSU Clearance: 300mm
CPU Cooler Clearance: 179mm
Storage bays: 6 x 2.5", 1 x combined 2.5"/3.5"
Max Fan Capacity: 7
Included Fans: 3 x Stratus 140 PWM ARGB (front), 1 x Stratus 140 PWM ARGB (rear)
Radiator Capacity: 1 x 120/240/280/360 (front), 1 x 120/240/280 (top), 1 x 120/140 (rear)
Dust filters: Front, Top, Bottom
Front I/O: 1 x USB-C, 2 x USB-A, 2 x 3.5mm Audio, Power, Reset/LED button
Thermal Performance Testing
To simulate thermal demand we run the Cinebench R23 multi-thread benchmark and 3DMark Time Spy Extreme stress test simultaneously in a loop for 60 minutes to fully load the system. This gives the CPU and GPU enough time to reach constant steady-state temperature. With this data, we can compare how the system handles the thermal demand and measure peak noise levels.
Thermal performance is measured with the case in various configurations, such as the default, with the tempered glass left-hand side panel removed and with the front panel removed to see how these configurations affect the CPU and GPU temperature. During testing, only stock case fans are used unless otherwise specified. All water pumps are set to maximum RPM and fans are set to a custom RPM curve by the Motherboard software/BIOS.
All temperature measurements are presented as Deltas – meaning the ambient temperature has been deducted from the CPU temperature giving us a Delta. Data shown in the charts represent the average component temperature over the length of the test as measured by HWiNFO and then the last 15 minutes of the data are calculated to get the average. The ambient temperature during thermal tests is between 19-21⁰C.
Test System:
Thermal Performance/Noise Overview:
Thermal Performance:
Due to how the AMD precision boost algorithm works the Ryzen 9 7900X CPU temperature is in the 90's no matter what case you use. However, 91 degrees C is good, especially considering that just a 280mm AIO was used.
GPU Temperature is what we look at closely these days when testing case thermals and I have to say I have never seen a more consistent chart. It doesn't seem to matter what configuration you run the case in or add a fan to the power supply shroud mount, the GPU temperature is consistently low which shows that the airflow in the ARX 500 ARGB is nothing less than superb.
Noise: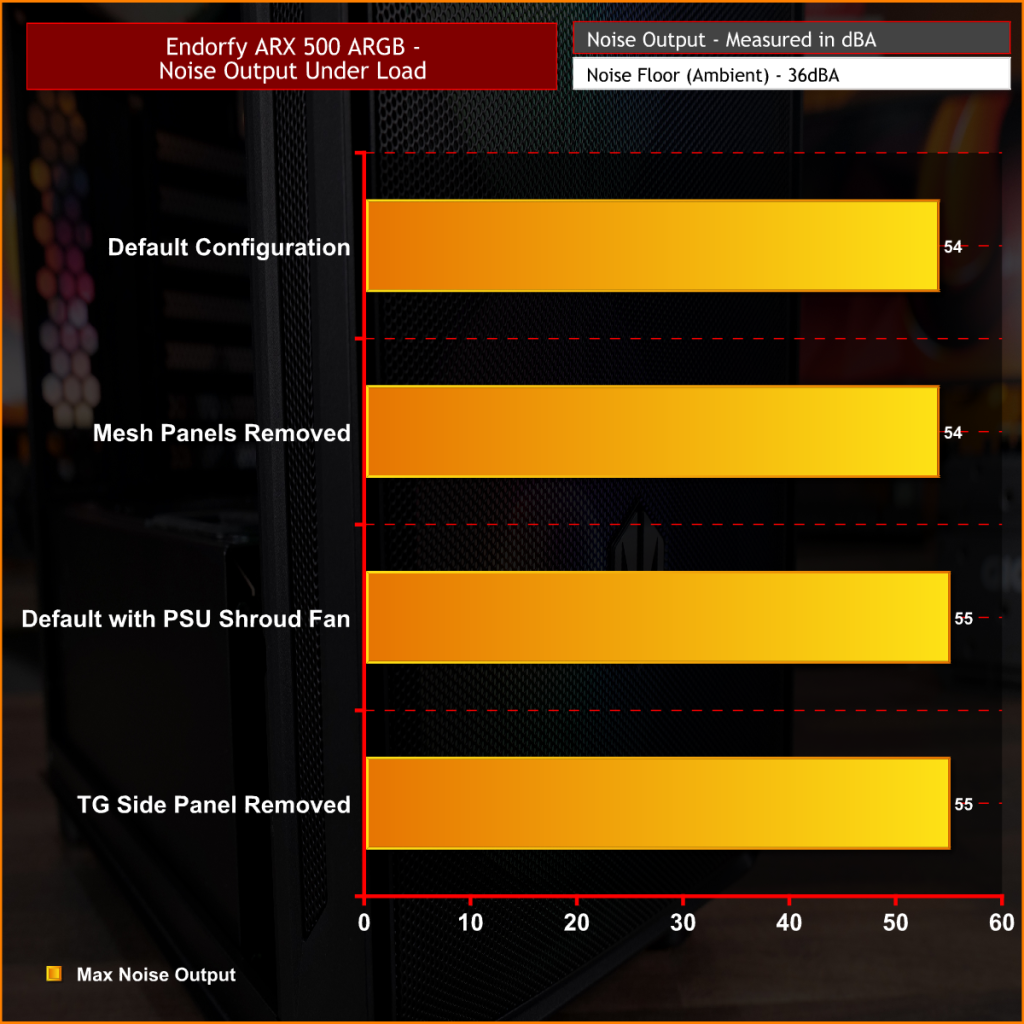 As we saw with thermals, again noise levels are very even with the system under heavy load due to the stable temperature in any configuration. Fan speeds were consistent with the case in different configurations, so noise output was almost identical no matter the configuration of the case which again points to excellent thermals with the case in its default configuration with all panels installed.
Closing Thoughts
If you are in the market and looking for a budget case with lots of fans, great airflow and cooling then the Endorfy ARX 500 ARGB or Air would be a very smart choice. Building a system with the case is a joy, the interior is very spacious, it supports a good range of hardware, large radiators and very tall air coolers so cooling options are great even if it is a compact ATX chassis. During the build phase, I didn't run into any compatibility or alignment issues with the hardware which is impressive as its a high-end hardware specification.
Endorfy is very generous with the number of fans that it includes with the ARX 500 ARGB. It comes with four PWM control ARGB fans pre-installed, a 5 port PWM fan hub and a 5 port ARGB controller, all for the bargain price of 109 Euros. But what if you don't want RGB? well then the ARX 500 Air is even better value with five 140mm fans included and the PWM hub at 90 Euros which is excellent value for money in a world where prices of essentials are spiralling. It makes you wonder how Endorfy does it.
It's difficult to find them but there are some very minor negatives. I would have liked an additional cable cut out to the top right-hand side of the motherboard tray and the Velcro cable management straps are a bit fiddly, but I am really being picky with these. The only other thing I would have liked to see with the Endorfy ARX 500 series is the option to buy the case in white, the bigger ARX 700 is only available in black too but I hope Endorfy addresses this in the future as white cases/builds are becoming ever more popular.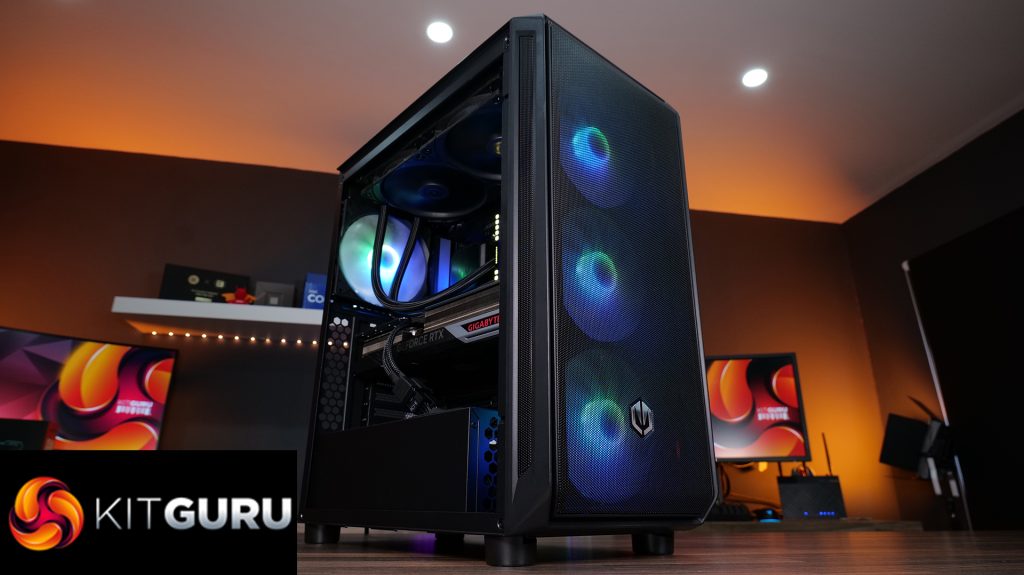 Our test system included some very high-end hardware and during thermal tests the Endorfy ARX 500 ARGB dealt with the high thermal load with absolutely no problem whatsoever. We set a silent fan curve in the Gigabyte BIOS for the CPU cooler and ran the graphics card fans at their factory curve. Noise output was quite high at 55dBA but with such great thermal performance, you could tune the fan curves on both the CPU and graphics card cooler to your preferred noise level without compromising too much on cooling.
So the Endorfy ARX 500 series, is well priced, it has superb airflow and thermal performance, it comes packed with decent fans and it's not too bad to look at either. Some might say that the aesthetics are conservative but that means it's more likely to appeal to a wider range of tastes and it shouldn't look out of place anywhere, be it a gaming setup, office or bedroom/living room PC it should fit in just fine.
If I was looking at purchasing a budget case for a mid-range gaming PC I wouldn't hesitate to buy it, even a high-end system would be perfectly comfortable inside this case. So if you are looking to build a new system soon and don't want to break the bank on an expensive high-airflow case, make sure you give this one a look because if you buy one, you won't regret it.
Pros:
Cheap price.
Plenty of PWM fans are included with the ARX 500 series.
5 port RGB Hub in the ARGB version.
Good cooling support for a compact ATX case.
Easy to build with.
Superb airflow and cooling.
Cons:
Not available in white.
Some panels are a bit flimsy.
KitGuru says: This is one of the best budget airflow cases that we have seen for a while, under 100 Euros for the non-RGB ARX 500 Air is amazing value, adding ARGB costs just 20 Euros more so either will be friendly on your wallet and the money you save on the case and be put to use in other areas.
Be sure to check out our sponsors store EKWB here