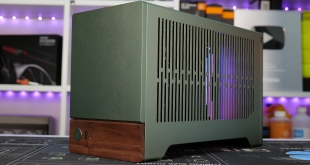 It has been a while since my last proper case review, and even longer since I last looked at a new SFF chassis, so when Fractal Design got in touch to say they had a new highly compact mini-ITX case ready to launch… I was very eager to take a look. The Fractal Terra combines a tiny 10.4L small form factor with Scandinavian design elements and the ability to cram in high-end hardware. But can this new compact ITX case from Fractal deal with the current hardware demands and is it an improvement on what came before it? Let's find out.
Timestamps:
00:00 Start
00:52 Fractal Terra details
02:36 Cooling / Rad support / CPU & GPU support
04:01 Accessory box / guide
04:44 Close up look at the Terra
09:39 Graphics card clearance
11:21 Other compartment / SSD support / AIO support
12:35 Floor of the case / adding a fan ?
13:52 Components for the build
15:45 Timelapse build
20:32 Build is complete – James thoughts
23:17 Thermal tests
24:01 Closing Thoughts
Fractal Design Terra is an extremely compact mini-ITX chassis with a capacity of just 10.4L, the case measures just  343mm x 153mm x 218mm (LxWxH) so it sits towards the smaller end of the mini-ITX scale which is fine because that surely is what mini-ITX is all about. Fractal has chosen a combination of wood and anodised aluminium for the exterior of the Terra with an internal chassis frame made from steel.
The Terra is available in three different exterior finishes, Jade, Silver and Graphite. The Jade version is a light green, graphite looks almost black and silver is, well, silver. All three case versions cost the same at USD 179.99 or £174.99 here in the UK. Our sample is Jade which has a slight metallic look to the anodised finish with Walnut trim which looks quite sophisticated. The chassis panels are all heavily vented apart from the front panel, airflow should be good so expect cooling to work well.
Features
Compact dimensions of 343mm x 153mm x 218mm (LxWxH) and a tiny 10.4L capacity make the Terra one of the smaller Mini-ITX cases on the market.
Exterior styling features anodised aluminium in a choice of three different colours combined with a small Walnut trim panel that houses the power button and front I/O, giving the case a unique and sophisticated appearance.
A central moveable motherboard spine allows users to adjust space between compartments to increase space for dedicated graphics cards or taller CPU coolers.
Front panel I/O connectivity consists of a single USB 3.1 Gen2 Type-C port and a USB 3.0 Type-A port, as well as an LED-illuminated power button.
The Terra includes a box of accessories such as screws, cable ties and a 2.5-inch drive bay as well as a PCI-e Gen4 riser cable and power supply extension cable.
The case is primarily designed with CPU air cooling in mind but it is possible to install a 120mm radiator or AIO inside the Terra.
Specifications:
Dimensions: 343mm x 153mm x 218mm (LxWxH)
Form Factor: Mini-ITX
Materials: Steel Chassis, aluminium, Walnut
Motherboard support: Mini-ITX
Front I/O: 1x USB 3.1 Gen 2 Type-C, 1x USB 3.0, Power button with LED
Expansion Slots: 3 in Max GPU Config, 2 in Max CPU Config
Drive Bays: 2.5″ 2x (included)
Fans: 1x 120mm bottom mounted
Radiators: 120 mm (121 mm wide w/ 200 mm GPU and no SSDs), side-mounted
GPU Max Dimensions: 322 x 72 x 131 mm / 322 x 62 x 145 mm in Max GPU Config, 322 x 43 x 131 mm / 322 x 33 x 145 mm in Max CPU Config
Max CPU Cooler Height: 77 mm in Max CPU Config, 48 mm in Max GPU Config
Power Supply Type: SFX, SFX-L
Max PSU Length: 130mm
Thermal Performance Testing
To simulate thermal demand we run the Cinebench R23 multi-thread benchmark and 3DMark Time Spy stress test simultaneously in a loop for 60 minutes to fully load the system. This gives the CPU and GPU enough time to reach constant steady-state temperature. With this data, we can compare how the system handles the thermal demand and measure peak noise levels.
Thermal performance is measured with the case in various configurations, such as the default, with the tempered glass left-hand side panel removed and with the front panel removed to see how these configurations affect the CPU and GPU temperature. During testing, only stock case fans are used unless otherwise specified. All water pumps are set to maximum RPM and fans are set to a custom RPM curve by the Motherboard software/BIOS.
All temperature measurements are presented as Deltas – meaning the ambient temperature has been deducted from the CPU temperature giving us a Delta. Data shown in the charts represent the average component temperature over the length of the test as measured by HWiNFO and then the last 15 minutes of the data are calculated to get the average. The ambient temperature during thermal tests is between 20-22⁰C.
Test System:
CPU – AMD Ryzen 9 5900X
Motherboard – Gigabyte B550i Aorus Pro AX
Graphics Card – Gigabyte Radeon RX 6700 XT Gaming OC
Memory – 32GB (2 x 16GB modules) Corsair Vengeance RGB Pro DDR4-3600
CPU Cooler – Noctua NH-L9a-AM4
Power Supply – Seasonic FOCUS SGX-650 80+ GOLD
Case fans – N/A
Chassis – Fractal Terra
Operating System – Windows 11
Thermal Performance/Noise Overview:
Thermal Performance:
In its default configuration, the Fractal Terra produces thermal results as we would expect, the CPU temperature is a little on the high side but that's due to the ultra-low profile CPU cooler used. The case will allow for the installation of larger coolers, but the CPU temperature is still within AMD limits.
GPU temperature on the other hand is excellent. Even when case side panels are removed the temperature remains consistent so the heavily ventilated panels are doing their intended job, which is good news for cooling.
Noise:
Since removing side panels makes little to no difference in thermal performance, fan speeds are neither increased nor decreased so noise levels also remain stable when changing the case configuration. Again this is a good sign that the ventilated panels are doing their job efficiently and the case is able to cool the hardware sufficiently.
Closing Thoughts
Even though the Fractal Terra may not offer great support for AIOs or water-cooling radiators and huge graphics cards… it's no detriment to the case. I would never expect this case to be used as a base for a main gaming PC or high-end editing rig, it's more ideally suited to a media PC or casual living room gaming rig that sits under a TV unit, so its compact size and hardware support is ideal for this type of scenario.
Even though it is extremely compact with its skinny dimensions and small 10.4L capacity, Terra allows users to install three-slot graphics cards up to 320mm long which means you can play PC games on your 4K TV with ease, while keeping the small and sophisticated looks that will fit your living room space.
Using Terra to build your system is as simple as it gets, during our test system installation I only stumbled upon one small issue that wasn't really much of a problem, more of a minor inconvenience that needed a little more thinking to resolve. A power cable with an opposite angle would be an improvement but it's probably not a necessity, it's still very simple to build a system in the Terra.
The case is a little lacking in terms of cooling especially if you have an SFX-L power supply installed. As I found during the installation of the Seasonic Focus SGX PSU, the 125mm length of the power supply means that the space for the rear fan is completely blocked off, so no case fans could be installed. However, this doesn't seem to be much of a problem for cooling the hardware as our testing shows that the heavily ventilated panels do a good job of allowing cool air in and warm air out.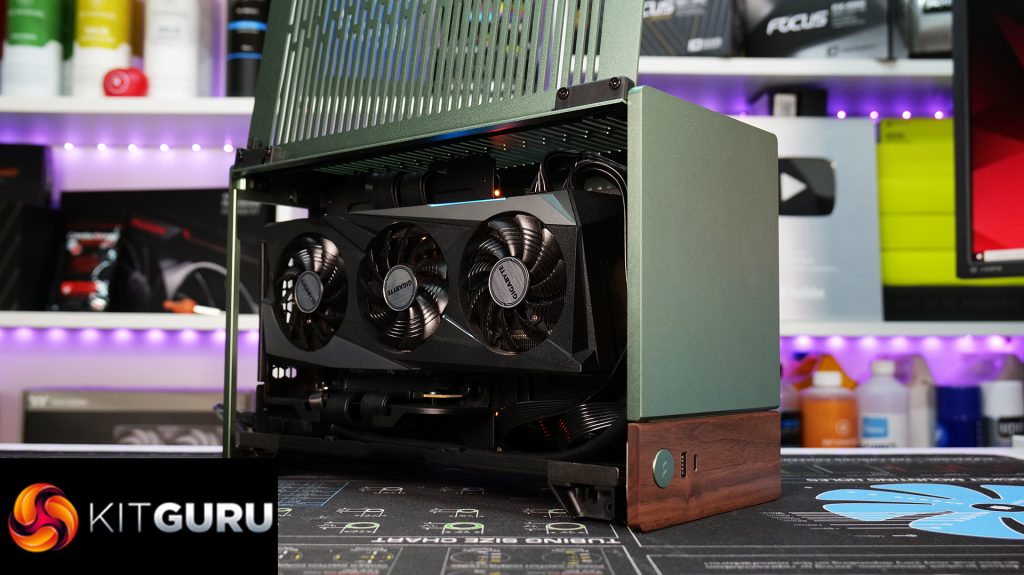 Taken as a whole the Fractal Terra is a very good mini-ITX case. Its compact design means it will likely fit in any space while the stylish looks should appeal to anyone looking for a new small media PC case that can sit in the living room and not look out of place. The modest hardware support should be enough for most users, but if you want a mini-ITX and an RTX 4090 you need to look elsewhere – for everyone else, it's more than enough.
The only real downside that I can see is the cost, priced at almost £180 at launch in the UK it's quite expensive. This is probably due in part to the anodised aluminium and walnut panels, but even then, it is just a bare case – no fans, power supply or CPU cooler is included, unlike some other ITX packages that are available. But what it lacks in budget friendliness it makes up for in looks and build quality.
The Fractal Design Terra is available to buy now from Scan priced at £174.99 HERE.
Discuss on our Facebook page HERE.
Pros
High-quality build.
A mix of wood and aluminium looks great.
Decent hardware support for such a small case.
Installation is easy.
Cons
A tad expensive.
Fan support is compromised.
Water cooling isn't really an option.
KitGuru says: The Fractal Terra might not suit every PC spec but it's a very good-looking, compact mini-ITX case that will support high-end hardware and looks like the ideal option for a living room media PC, or any other use you can think of.
Be sure to check out our sponsors store EKWB here