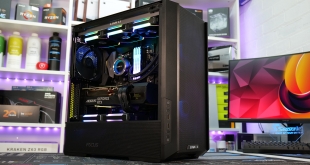 We see a lot of PC chassis here at KitGuru but we don't often come across anything genuinely unique. Most of the time, new cases offer improved looks, but not necessarily any improvement on the usual features we have seen for decades which means that finding cases with useful new features is a rarity. The Lian Li Lancool 216 is the exception to that rule, but what has Lian Li got up its sleeve in this new mid-range chassis? Let's find out.
For starters the Lian Li Lancool 216 is available in black and white variants. The black version comes in at £105 but there is a slight premium to pay for the white version which is priced at around £110. The current economic climate puts the Lancool 216 in the mid-range sector with some very fierce competition, so it'll need something unique to stand out in the crowd.
There are a couple of things that are interesting to say the least about the new Lancool 216. Lian Li has included a 120mm external fan bracket that is designed to mount to the back of the case, positioned behind the PCIe slot to relieve heat from the GPU. Also included is a front I/O that can be re-positioned, and an adjustable motherboard/rear I/O mounting solution for optimal cooling with air or liquid coolers.
Lian Li Lancool 216 Features:
Available in black and white colour schemes with mildly tinted tempered glass side window, high airflow mesh front and top panels for optimal airflow and cooling performance.
Optimised for air and liquid cooling with an adjustable motherboard position and a rotatable rear I/O. Liquid cooling mode creates more space at the top of the case for radiator installation while air cooling setup allows for the installation of large air coolers while still offering vertical GPU mounting.
A reversible front I/O allows users to re-position the front panel from the top of the case to the bottom left-hand side. This means that users with floor-mounted or desk-mounted cases can have easy access to the front I/O.
An included 120mm rear fan bracket can be installed externally behind the PCIe slots to improve airflow around the graphics card and provide a better airflow balance with an additional rear exhaust.
Two 160mm high airflow ARGB PWM fans come pre-installed to the front of the case, while in the top rear exhaust position is a standard black non-RGB 140mm high airflow PWM fan. Both the front 160mm and rear 140mm fans can be connected to the included PWM/RGB fan hub.
Extensive cable management is provided by three large cable straps in the central channel, an additional cable management channel to the right of the motherboard tray includes three clips for CPU EPS power cable routing while multiple cable cutouts are placed in handy locations.
An optional ARGB controller/USB module accessory can be purchased separately. With this accessory, users have enhanced ARGB lighting control allowing the two RGB lighting zones on the front 160mm fans to be configured individually by two switches.
Supported hardware includes motherboards up to E-ATX form factor, CPU cooler height of up to 180.5mm, a maximum graphics card length of up to 392mm and power supplies up to 220mm long.
Specifications
Case Type: Mid Tower
Dimensions (DxWxH): 480.9 x 235 x 491.7 mm
Colour:  Black / White
Material: Steel / 4mm Tempered glass
Motherboard Support: E-ATX/ATX/M-ATX/Mini ITX
Expansion Slots: 7
Storage: 4 x 2.5", 2 x 3.5"/2.5"
Max GPU Length: 392mm
Max CPU Cooler Height: 180.5mm
PSU Type: ATX
Fan Support: (Top) 3 x 120mm/2 x 140mm, (Front) 3 x 120mm/2 x 140/160mm, (Rear) 1 x 120mm, (PSU Cover) 2 x 120mm/2 x 140mm (Air Cooling Mode), (External Bracket) 1 x 120mm
Included Fans: 2 x 160mm ARGB (Front), 1 x 140mm PWM
Front I/O: Power button, reset button, 2 x USB 3.0 Type-A, 1 x USB Type-C, 3.5mm Audio jack
Dust Filters: 1 x Bottom
Thermal Performance Testing
To simulate thermal demand we run the Cinebench R23 multi-thread benchmark and 3DMark Time Spy Extreme stress test simultaneously in a loop for 60 minutes to fully load the system. This gives the CPU and GPU enough time to reach constant steady-state temperature. With this data, we can compare how the system handles the thermal demand and measure peak noise levels.
Thermal performance is measured with the case in various configurations, such as the default, with the tempered glass left-hand side panel removed and with the front panel removed to see how these configurations affect the CPU and GPU temperature. During testing, only stock case fans are used unless otherwise specified. All water pumps are set to maximum RPM and fans are set to a custom RPM curve by the Motherboard software/BIOS.
All temperature measurements are presented as Deltas – meaning the ambient temperature has been deducted from the CPU temperature giving us a Delta. Data shown in the charts represent the average component temperature over the length of the test as measured by HWiNFO and then the last 15 minutes of the data are calculated to get the average. The ambient temperature during thermal tests is between 20-21⁰C.
Test System:
CPU – AMD Ryzen 7 5800X
Motherboard – Gigabyte X570 Aorus Elite
Memory –32 GB (4 x 8GB Modules) Corsair Vengeance RGB Pro SL DDR4-3600
Graphics Card – RTX 3080 Aorus Master
Storage – 1TB PNY XLR8 Gaming CS3040 PCIe Gen4 NVME M.2 SSD
Case – Lian Li Lancool 216
Power Supply –Seasonic Focus PX-850 80+ Platinum
Fans –Stock 160mm/140mm + Lian Li UNI FAN SL120 V2
Operating System – Windows 11
Thermal Performance/Noise Overview:
In its default configuration with only the stock fans installed, the Lian Li Lancool 216 is an excellent high-airflow chassis that will serve users with high-specification components well. The high airflow panels combined with the stock 160mm and 140mm fans easily cooled our test system.
Adding additional 120mm fans to the PSU shroud helped drop GPU temperature again and installing the rear external fan mount, equipped with a 120mm Lian Li UNI Fan SL120 V2 reduced GPU temperature even further. With these extra fans installed the case cooling goes from good to great.
Closing Thoughts
When reading the review guide that came with the Lian Li Lancool 216, I was a little dubious of the claims made about one or two of the new features that had been implemented into the chassis. I wasn't expecting the external rear fan to help much at all with GPU temperature reduction but I was wrong. The external fan combined with the bottom PSU shroud-mounted fans worked extremely well in our thermal testing by knocking a whopping 8°C off the GPU temperature.
All this is excellent news for users of high-end graphics cards. However, the implementation of this feature is flawed as it is only compatible with motherboard and graphics card combinations that place the graphics card video outputs in the top PCIe slot. With the majority of motherboard and graphics card combinations, you will find that the video outputs populate the second and third PCIe slots which means that you can't install the external fan and access video outputs.
By installing the external fan slightly wonky and with only one screw I was able to connect to one HDMI port on the graphics card and run the thermal tests. Hopefully, Lian Li can take a second look at the fan mount and modify it so that it can compatible with more system configurations as it is genuinely a good feature, especially when combined with the PSU shroud mounted fans.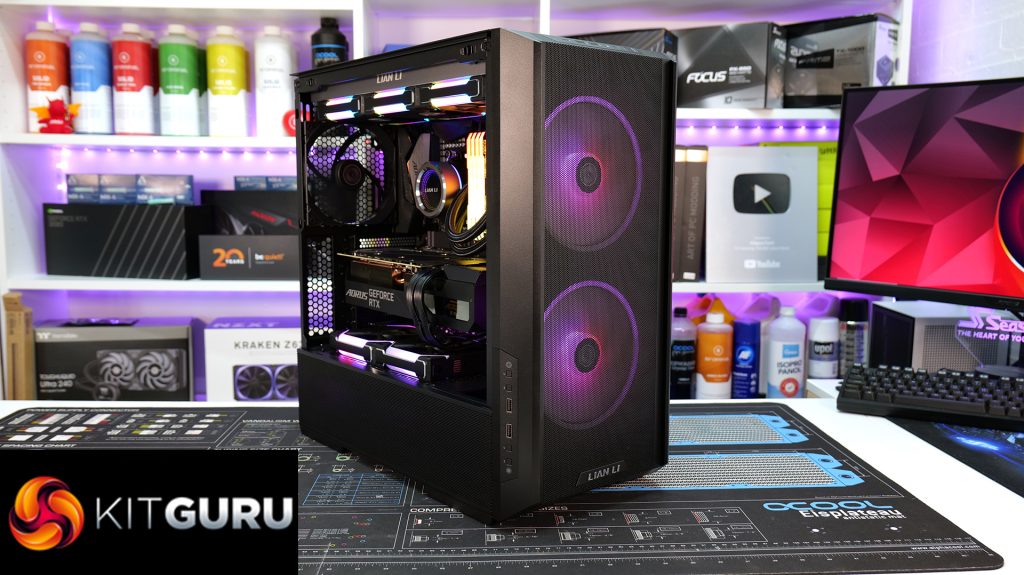 Other than this minor inconvenience, the Lian Li Lancool 216 is an excellent mid-range chassis. Installing a system inside the case is easy, the adjustable motherboard mounting position makes motherboard components at the top of the case accessible when in water cooling mode with a top-mounted radiator and for those who want to air cool the system the motherboard can be lifted to create more space for bigger bottom fans and large CPU air coolers while still being able to mount a big graphics card vertically.
Combined with the high airflow mesh panels, the stock fans offer impressive cooling and the RGB lighting effects of the front 160mm fans look great, especially if you pay the extra for the optional USB/ARGB controller module which allows for control of the two RGB zones individually. There is also plenty of space for storage devices with two removable 3.5" bays and the potential to install up to 6 2.5" drives.
Taken as a whole, the Lian Li Lancool 216 is an excellent mid-range case with great cooling performance, extensive support for high-end hardware and solid build quality. Priced at £105 for the black version, it offers good value in the current market compared to the competition. For enthusiasts that want a reasonably priced chassis, with useful features capable of cooling very high-end components, the Lian Li Lancool 216 will be a very smart choice.

The Lian Li Lancool 216 is available to purchase from Overclockers UK now priced at £109.99 HERE.
Discuss on our Facebook page HERE.
Pros:
Mesh panels provide great airflow.
External fan and bottom fans significantly improve GPU thermals.
Optimised for both air and water cooling.
Handy cable management features.
Solid build quality.
Cons:
The external fan isn't compatible with all hardware configurations.
ARGB controller has to be purchased separately.
KitGuru says:  The Lian Li Lancool 216 is an impressive chassis for its price point. There is some tough competition in that sector of the market but Lancool 216 is up there with the best of them, what do you guys think?
Be sure to check out our sponsors store EKWB here